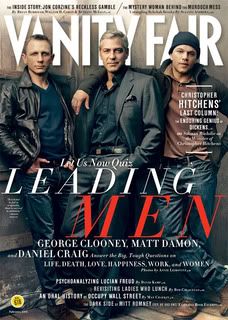 UPDATE: Really good discussion in comments. Here's a cover illustrating one of my points:
I've continuing flailing the dead equine that the whole idea of movie stars is largely gone by the boards now. That's not to say that a certain guy in a certain part isn't essential to a film's success. But even that's rare, as with Johnny Depp playing Jack Sparrow.
Of course, there are lots of 'movie stars,' in the literal sense of people who star in movies. However, the classic definition of a movie star, i.e., someone who 'opens' a movie to big money over at least the release weekend, after which the film entire is on its own, is increasingly suspect.
These thoughts rose to mind again when I saw the cover to this month's issue of Vanity Fair, featuring a photograph of Daniel Craig, George Clooney and Matt Damon. These guys are all considered not only movie stars but major ones. Let's examine that statement.
Remember that the general rule of thumb is that a film must make at LEAST twice as much as the budget (which actually would include P&A costs, not included in the budget figures below, which would add millions or tens of millions to each budget) to hit the breakeven mark.
Aside from his two Bond movies, Daniel Craig has recently starred in:
*****
The Invasion (2007, with fellow 'star' Nicole Kiddman):
Production Budget: $80 million.
Worldwide Gross: $40 million
Verdict: Major bomb.
*******
Golden Compass (2007; again co-starring Nicole Kiddman)
Budget: $180 million
Worldwide Gross: $372 million
Verdict: Breakeven
*****
Defiance (2008)
Budget: $32m
WW Gross: $51M
Verdict: Modest bomb
******
Cowboys & Aliens (2011; with Harrison Ford)
Budget: $163m
WW Gross: $174 M
Verdict: Megabomb
*******
Dreamhouse (2011; horror)
Budget: $50m
WW Gross: $38m
Verdict: Bomb
********
Girl with the Dragon Tattoo
Budget: $90m
WW Gross (as of 1/11/12): $107m
Verdict: Bit of a money loser, depending on ultimate BO
********
Overall Daniel Craig Verdict: Not a movie star.
George Clooney:
A bit of a more interesting case. Clooney occasionally makes a high profile movie, but he's really mostly worked in smaller, more intimate films. These generally don't have big budgets, and so more often are modestly successful. Occasionally these movies make a goodly amount of money, although they aren't the blockbuster-types of success Hollywood is obsessed with. I'll skip his big series, the Ocean's films, of which he is merely the biggest star of large star ensemble casts.
*******
Michael Clayton (2007)
Budget: $25M
WW Gross: $92m
Verdict: Nice sized hit
*********
Leatherheads (2008)
Budget: $31m
WW Gross: $41M
Verdict: Yikes!
**********
Burn After Reading (2008: co-stars Brad Pitt, Coen Brothers movie)
Budget: $37m
WW Gross: $163m
Major hit
***********
Men Who Star at Goats (2009)
Budget: $25m
WW Gross: $69m
Verdict: Decent-sized hit, about $10m back on the $25m investment
***********
Fantastic Mr. Fox (2009)
Budget: $40m
WW Gross: $46m
Verdict: Nice movie, but a bomb.
***********
Up in the Air
Budget: $25m
WW Gross: $167m
Major, major hit
**********
The American (2010)
Budget: $20m
WW Gross: $68m
Decent sized hit
***********
Ides of March (2011)
Budget: $12.5m
WW Gross: $59m
Major Hit
************
The Descendants (2011)
Budget: $20m
WW Gross (as of now): $44m
Modest money maker
************
Overall Verdict: Legitimate star in terms of smartly starring in low-budget films that thus make money, sometimes quite a lot. Clearly doesn't draw huge salaries, like Denzil Washington's reported (and clearly unwarranted) $20m for some pictures. Clooney is probably not as big a star of 'big' movies as average people think, but it's clearly nice to be in the George Clooney business.
Matt Damon:
***********
Will skip his outliers, the Ocean's and Bourne movies.
***********
The Informant (2007)
Budget: $22m
WW Gross: $42m
Close to break even, not including P&A costs
*************
Invictus (co-starring Morgan Freeman, directed by Clint Eastwood)
Budget: 60M
WW Gross: $122m
Basically breakeven, not including P&A costs
**************
Green Zone (2010)
Budget: $100m
WW Gross: $95M
Major bomb
**************
Hereafter (2010; directed by Clint Eastwood)
Budget: $50m
WW Gross: $105M
Verdict:  Basically breakeven, not including P&A costs
**************
True Grit (starred Jeff Bridges, directed by Coen Brothers)
Budget: $38m
WW Gross: $251m
Verdict: Major, major hit for a film of this level. Between this and Burn After Reading, it looks like you want to be in the Coen Brothers business more than the George Clooney or Matt Damon business.
***************
Adjustment Bureau (2011)
Budget: $50m
WW Gross: $127m
Very modest money maker, depending on P&A costs
*****************
Contagion (2011)
Budget: $60m
WW Gross: $135m
Undoubtedly lost 'small' amount due to very high P&A costs
***************
Margaret (2011; troubled production)
Budget: $14m
WW Gross: $46,500
Verdict: OUCH!!
*************
We Bought a Zoo (2011)
Budget: $50m
WW Gross (as of now): $70m
Bit of a bomb
***************
Overall Verdict: Matt Damon's name will help you to get your movie made, and if you keep the budget reasonable you have a decent chance of at least breaking even. But unless the movie has Bourne in the title, it won't make money.
***********
Final verdict: Clooney is a star of modest-sized movies, but not big ones; a smart man, career-wise, but not a star in a Tom Cruise sense. Damon is not a movie star, but won't generally cost you your shirt. Stay away from Daniel Craig if he's not playing Bond.