Five years ago, give or take, some friends of mine had to drive up to Milwaukee, WI, to see Abbott & Costello Meets Frankenstein. Why? Because there were no Halloween movies playing anywhere in Chicago.
Things have exploded since then. Just at the Portage Theater alone, a gorgeous 1920s movie palace that happily is an easy 15 or 20 minutes from my workplace (and which further has Super Dawg right on the route) alone is hosting, via various parties, a full 10 Halloween movie events in about 12 days. Last night was the first of these, a showing of The Ghost & Mr. Chicken.
I went down with, not too surprisingly, the same two guys I went to Milwaukee with (along with a few others.) My friend Tony is particular is a huge Don Knotts fan, and G&MC is one of his all-time favorite movies. For instance, he has a framed poster from the film.
The film was shown via a "recently" struck, indeed, immaculate, 35 mm Techoscope print. I'm not sure why they opted for such a widescreen format for this particular film, but again, it looked fantastic.
The film features a veritable who's who of '60s character actors, familiar to any around back then from their tons of movie and TV appearances. There's a trial seen alone where the two lawyers are played by the reliably acerbic Charles Lane, and Knott's lawyer is played by Bob Cornthwaite (a long way from Thing From Another World) Knotts' boss is played by Dick Sargeant, and Sandra Gould, Bewitched's nosy neighbor Agnes Kravitz, is around too.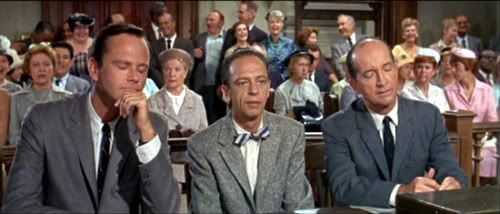 The nebbishy Knotts' love interest is rather improbably played by Joan Staley, a 1958 Playboy Playmate. Only in the movies.
The movie is actually quite funny. I'm not a fan, generally, of the frantic school of comedy, but Knotts' exaggerated mugging works well with the haunted house material, which justifies this extreme style of comedy. On the whole, though, I think Knotts was (going out on a limb here) most effectively used on the Andy Griffith Show, where he was balanced by the imperturbable Griffith.
Aside from the supporting cast and the widescreen format, the movie's big advantage is that it features a simply terrific score, only of my favorites from this time period, right up there with My Man Flint. Hearing it on professional theater speakers was a real treat, and presented a textbook example of how you can take one (in this case, wonderful) main theme and reorchestrate it each time it's heard to keep it fresh and evoke different moods.
Going back tonight for a showing of Chaney's Phantom of the Opera. I've never seen this, and its being presented by the Chicago Silent Film Society, an august organization that actually owns the Portage (which I learned last night). They always get gorgeous prints of the films they show, and there will be live organ accompaniment by Jay Warren, a local legend for that sort of thing. Happily, he came out last night before the showing and played for ten or fifteen minutes before the show.
All for five bucks. Cant's beat that. Tonight the tickets are $10, so kind of a rip-off, right?
I'm not sure I'll be back for a lot of the other stuff, but on the afternoon of Sunday the 30th, Victoria Price will be appearing and hosting showings of her father's House on Haunted Hill and Last Man on Earth.