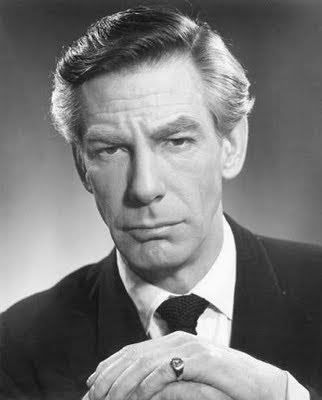 John Hanna brings the very sad news that beloved character actor Michael Gough has passed away. Although in his twilight years Mr. Gough reached his greatest audiences as the lovable Alfred the butler in Tim Burton's Batman movies, in his younger days he specialized in playing coldly intelligent and generally sadistic characters. In this aspect he starred in several films for horror specialist Herman Cohen,  playing roles matching those in Cohen's American films which were assayed by Gough's stateside counterpart, Whit Bissell.
With nearly 200 credits listed on the IMDB, Mr. Gough's career spanned many genres. However, he will always be remembered most fondly by horror buffs, the most manic and compulsive of cinema devotees. Aside from the Batman films, Mr. Gough starred in horror films good, bad and indifferent, including Horror of Dracula, Horrors of the Black Museum, Konga, Black Zoo, Hammer's The Phantom of the Opera, Dr. Terror's House of Horrors (still not available on DVD!), The Skull, Berserk and Trog.
He also did a lot of TV, including the classic Cybernauts episode of The Avengers. He also appeared in Doctor Who episodes opposite both William Hartnell and Peter Davison. In the end he appeared in several other Tim Burton movies, including Sleepy Hallow. God bless Burton; he never forgot the old guys.
The days of character actors like Mr. Gough are almost entirely behind us, and we are not the better for it. Rest in peace, sir.