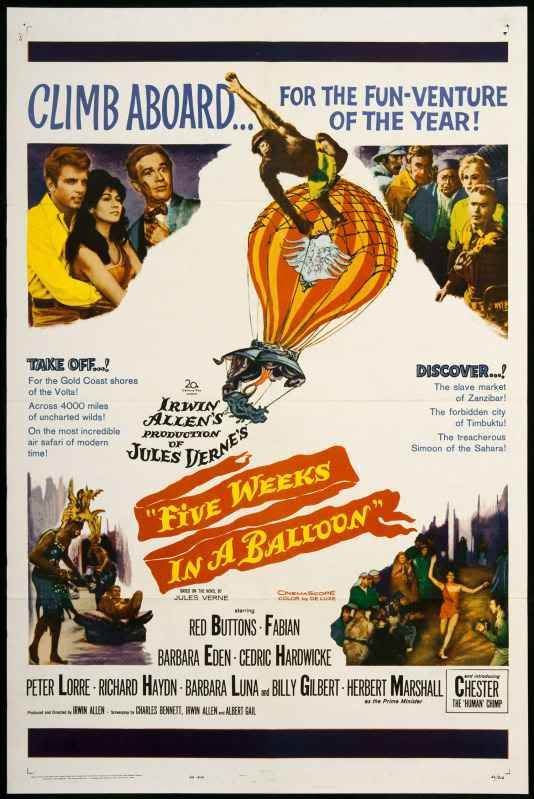 Following his cameo appearance in Irwin Allen's craptastic The Story of Mankind (1957)—one of dozens of that movie's 'star' turns—Peter Lorre became part of Allen's stock company. We already examined Lorre's negligible role in The Big Circus. This was followed a somewhat more substantial part in the movie Voyage to the Bottom of the Sea (1961). Meanwhile, Lorre and Allen's last collaboration was this fairly well-mounted kiddie adventure.
Following today's subject, Allen basically abandoned movies for about a decade, focusing on the daft sci-fi television programs that made him a baby boomer icon. Aside from producing four separate hour-long network series that more or less ran concurrently, Allen was also credited with writing an astounding number of their episodes; 29 for The Time Tunnel, 51 for Land of the Giants, 84 for Lost in Space and a gobsmacking 110 for Voyage to the Bottom of the Sea. It's hard to imagine Allen actually wrote all those—although if you've seen the quality of the writing of these shows, it does seem at least possible—but it still amounts to an astounding amount of work over a six year period.
When he returned to theatrical films in the '70s, it was in high style, via a genre he was seemingly born for; the Disaster Movie. The mix of goofy, completely unironic cornball melodrama larded with rafts of stars and character actors was right up his alley. Allen moved away from writing to produce and eventually direct (see our own The Swarm) a slew of these. His career high point came when  The Towering Inferno was nominated for a Best Picture Oscar. Allen was the person nominated for this, as Best Picture awards are credited to a film's producer(s).
Before those final two stages of his career, however, Allen wrapped up his early days in features with this Jules Verne adaptation. He was getting better, by the way. There were ten years between The Big Circus and the film it ripped off, Cecil B. DeMille's The Greatest Show on Earth. There were only seven between this and its own Best Picture-winning inspiration, Michael Todd's far more epic adaptation of Verne's Around the World in 80 Days. Take Five Weeks, 80 Days and add in the film Mysterious Island and it proves one thing; Jules Verne really liked hot air balloons.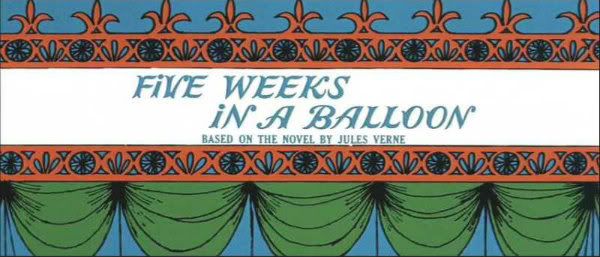 As with The Big Circus, this stars Red Buttons. Unlike Lorre, Buttons was young and fit enough to return to Allen's stock company when the latter resumed making theatrical films in the early '70s.  Buttons appeared in The Poseidon Adventure, When Time Ran Out and in Allen's TV production of Alice in Wonderland in 1985.
Here Buttons romances Barbara Eden when she eventually shows up. Button often fought way above his weight class where the ladies were concerned in his movies, garnering such cuties as Eden, Kathryn Grant, Carol Lynley (and those were just from his work with Allen), Carolyn Jones and the delectable Michèle Girardon in Hatari. Nice work if you can get it.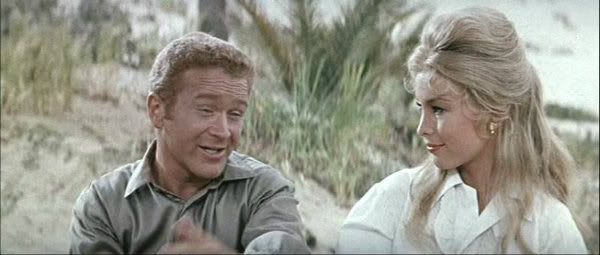 Cedric Hardwicke is a Scottish Prof. who wishes to explore Africa in his advanced new hot air balloon.  His funding blocked by exaggerated comic relief Brit Richard Haydn (complete with a Peter Sellers cartoon voice), Hardwicke instead receives backing from an American newspaperman—a common plot element in these period adventure films—briefly played by Randolph Raymond Bailey, aka Mr. Drysdale from The Beverly Hillbillies. His condition is that his nephew Red Buttons joins the expedition to report on it. Buttons proves a skirt-chasing fashionplate who is always getting in trouble. Comedy ahoy!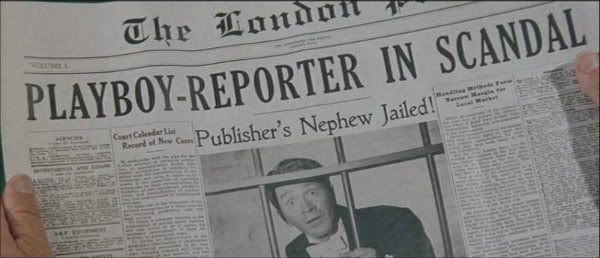 Hardwicke is further nonplussed, moreover, when he finds himself abducted by Scotland Yard. To his astonishment, he learns he's been forcibly summoned by none other than the Prime Minister of Britain. (!) The PM wants Hardwicke to change his plans; slave-traders are planning to make their way to a currently up for grabs section of coastal Africa and claim it for their own.
The PM admits Britain has had its own eyes on the territory. However, even in 1962 Brit imperial interests might not have made for a compelling rationale for a movie, so they instead focus on the evil slave-traders. Hardwicke's task is to beat the slave-traders there and plant the British flag, claiming the territory for the UK. None of this malarkey is in Verne's book, of course. (Why would it be, as Verne was French?)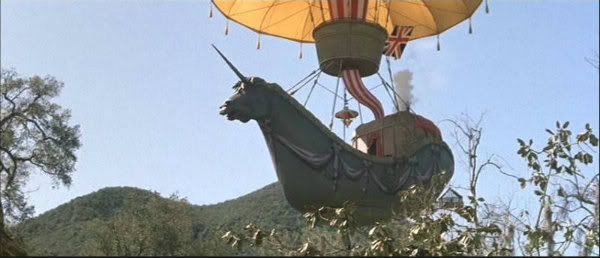 Anyway, this serves two purposes. First, it gives American characters played by Eden and Buttons a stake in things (although Buttons has to be brought around on the subject). Second, and more importantly, it provides the film with a time element. Seeking to emulate Around the World in 80 Days, well, an against-the-clock race of some sort is mandatory.
The chief slaver, meanwhile, is Mike Mazurki, who popped up a few weeks ago as Lorre's costar in Hell Ship Mutiny. Indeed, I think he's wearing the same shirt as in that movie. (And both pictures featured comic relief chimps, to boot.) Mazurki barely has a line here; every once in a while we cut to him supposedly slogging through the jungle for ten seconds, complete with a pirate beard and head bandana. I'd say he gets maybe two minutes of total screen time, three tops.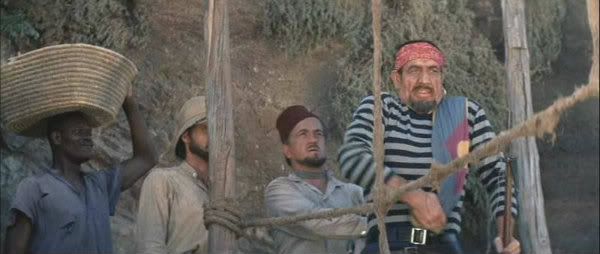 See Mike Mazuki in his greatest role, as….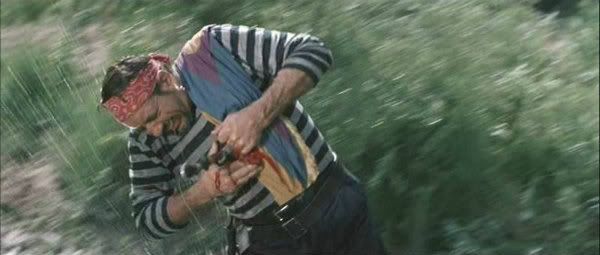 Oops, never mind.
Anyhoo, Hardwicke is joined on the expedition by his assistant Fabian (youth appeal, I guess), Buttons, Hardwicke's  comic rival Haydn—gee, didn't see that coming—and stowaway Makia, a wholesomely sexy slave girl Buttons saved from an African slave market. There's also *sigh* Chester the Chimp to provide for comic hijinx. Eventually, around 45 minutes in, Lorre and Eden finally show up. Even so, Lorre has a more substantial role here than he did in The Big Circus, although that's not saying much.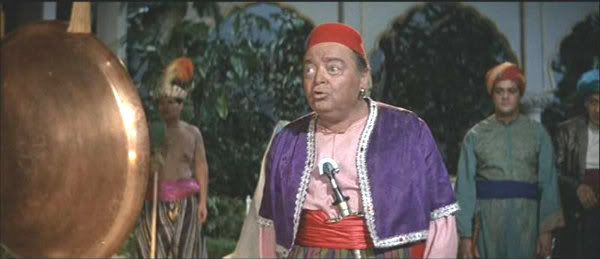 Lorre plays Ahmed, a slave-trader. It's kind of a discordant role, given that the entire plot is supposedly motivated by how evil slavery is, while Ahmed is a comic relief character. This is true even despite the fact that when introduced he has kidnapped American citizen Eden and is selling her into slavery to a sultan.  (Said sultan is played by, who else?, old school comic actor Billy Gilbert, a long way from his days with Laurel & Hardy, Charlie Chase and the Our Gang bunch).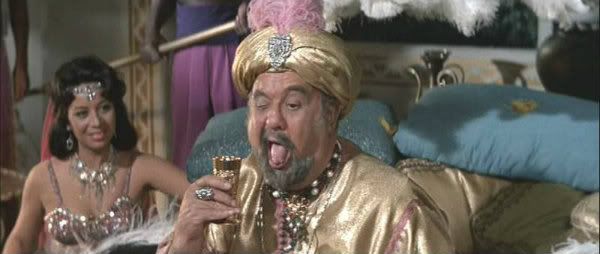 Even in a movie that is meant to be (and generally is) bluff good fun, Lorre's role doesn't bear much scrutiny. Aside from the lovable slaver thing, Ahmed ends up joining the crew when he climbs up a ladder into the escaping balloon (a feat clearly beyond the portly 58 year-old) and tries to murder them, only to instantly turn into the sort of fellow who is nonchalant about being stripped of a fortune in gems.
Mild grousing is about all that Lorre can muster as things go along. Mostly he complains comically about having to work and about not having enough to eat (while stuffing his face, of course). Oddly, he barely comments on the others' oft-stated  plans to hand him over the authorities so that he can be imprisoned as a slaver.
Indeed, when the crap hits the fan Ahmed rather unbelievably doesn't take the chance to escape, but instead goes out of his way to risk his life to help save the others. He even kills Mazurki in the end with a world's champion dagger-toss. (This event, the climax of the film, was featured in the film's trailer!) After all this, they don't even bother to have the heroes establish that they won't be turning Ahmed in after all. I guess we're just supposed to assume that they won't now that he's one of the 'good guys.'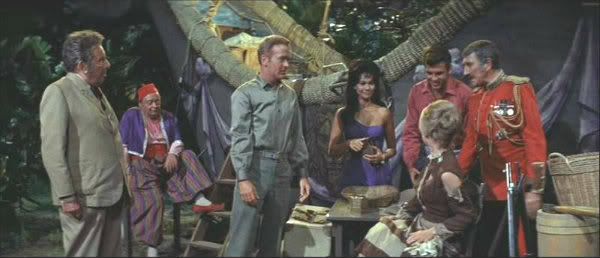 Irwin Allen; still the grand master of Cinemascope.
The more offendable might get into a tizzy over the stereotyped Arabs and African natives. (There's a stereotyped comic Brit, too, but nobody gets upset over that sort of thing.) Admittedly, it's hard not to roll your eyes over the way entire populations of Arabs in the 1880s or whatever would fall to their knees in fright at the sight of a hot air balloon, or assume that the vessel bears the 'Moon God.' (!!) But really, that's a lot more weight than this piffle can possibly warrant.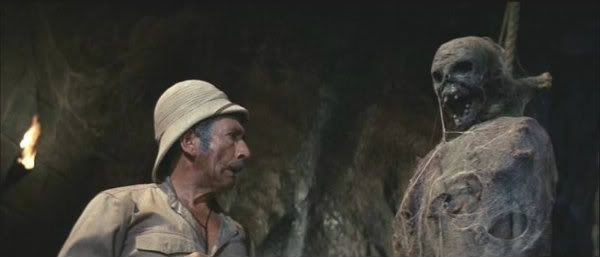 It was sort of funny that the three most prominent Arabs in the film were played by the Hungarian Lorre, American Billy Gilbert (who actually has two roles) and Brit veteran heavy Henry Daniell. Talk about three voices that couldn't sound even remotely Arabian if they tried, which frankly none of them do. The three are afforded a little tanning cream to make the illusion complete, although every time Lorre removes his fez you can see that the make-up on his forehead has wiped off.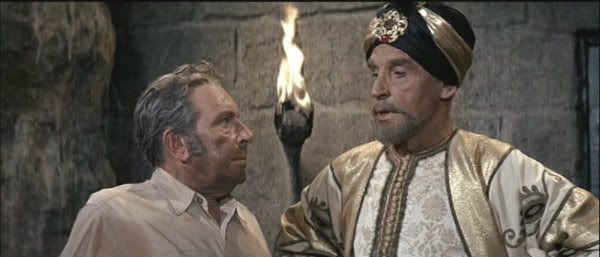 "I consider The Four Skulls of Jonathan Drake to be my greatest film, of course…"
The cast is largely composed of old pros, and while the movie doesn't call for much nuance, they all hit their marks and delivers their lines with admirable professionalism. Barbara Eden is very much in her self-contained, somewhat uptight 7 Faces of Dr. Lao mode here. If you didn't know she played Jeannie you might easily miss that it's the same actress.
Oddly, despite having Fabian in the case, it's the Four Brothers who sing the theme song. Fabian does do a couple of reprises of it during the film, however. As an actor he's serviceable, being called upon mostly to be handsome and likable. He manages that.
Makia is played by Barbara Luna, best known as the Evil Kirk's slutty girl toy in the classic "Mirror, Mirror" episode of Star Trek. She's called upon to be pretty and spunky. She too manages. Chester the Chimp performs various antics for the amusement of the kiddies to the best of his abilities as well.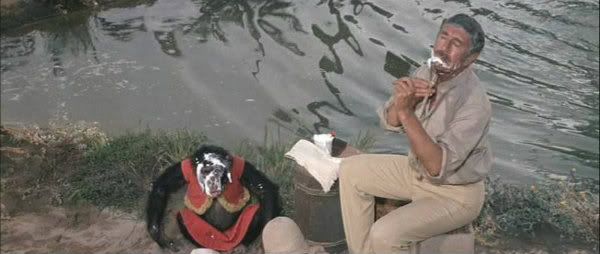 Although the tour of 'Africa' basically consists of sets (jungle and townships both) and the balloon being superimposed over stock footage shots of the Dark Continent, the special effects are pretty decent. There's some very nice model work, including a Toho-grade waterfall miniature for the film's climax. Meanwhile, a life-sized mock-up of the balloon's unicorn-shaped gondola was clearly moved around on a gigantic crane for the landing and lift-off scenes, which must have been a monumental pain in the arse.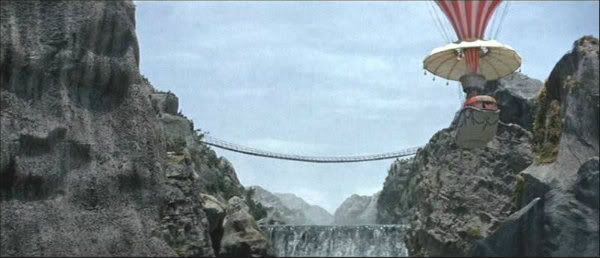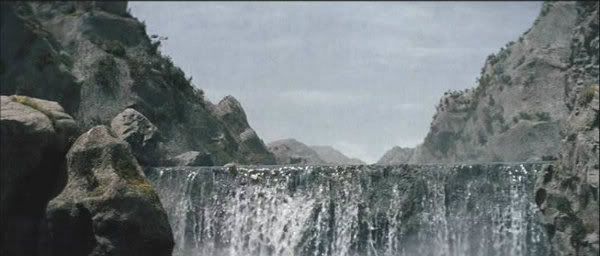 On the whole Five Weeks in a Balloon is a solidly crafted piece of entertainment. Think of Disney's live action output about the same time, and it's basically in the same ballpark. A bit better than I expected from Allen, frankly. Not a great movie, certainly, but an entirely pleasant way to waste 100 minutes on a lazy weekend afternoon.
On a trivia note, Allan was involved in a race of his own. Nathan Juran, director of such classics as The Deadly Mantis, The Seventh Voyage of Sinbad, The Brain of Planet Arous and Attack of the 50 Foot Woman, was rushing his own version of the book into theaters. Indeed, that version, Flight of the Lost Balloon and starring Mala Powers and Marshall Thompson, made it to theaters a year before Allen's picture.
However, 20th Century Fox's legal muscle forced that film's producers to drop any reference to Verne, despite the novel being in the public domain at the time. Allen and Juran clearly got past it, anyway, as Juran later directed numerous episodes of each of Allen's sci-fi TV shows. And although denied a Verne connection, Juran did direct the H.G. Wells adaptation First Men in the Moon.