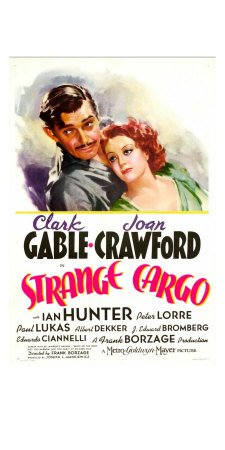 I'm hyper-sensitive to spoilers. In other words, things that other people—even professional critics—don't think of as spoilers, I do. An obvious example is when people (or reviewers) mention a film has a "terrific twist ending." Apparently most think as long as you don't reveal the actual twist, it's not a spoiler.
Yet how can being told such a thing not deform the film-watching experience? Knowing there's a twist means knowing the film is going to do an abrupt 180 from where it's apparently heading. You start analyzing the film as it goes along, whether you want to or not. You either figure out the twist, thus ruining it, or spend so much mental energy on it that it fundamentally changes the entire thing.
William Hurt in The Big Chill snarkily says, while watching It Came from Beneath the Sea, "Sometimes you have to let Art wash over you." That's hard to do when you have your mental guards up the entire time. Or as Kenny Rogers might say, they'll be time enough for analysis when the movie's done. I prefer to watch a movie in a pretty passive state, and then do my thinking about it after it's over.
This is one reason I'm averse to discussing good movies with people who haven't seen them yet. If I'm hearing about a movie I haven't seen, I want only the very vaguest details about it. Really, I want a general thumbs up or down, and little more.
So I'll probably be fairly circumspect about today's Lorre film, Strange Cargo, starring Clark Gable and Joan Crawford. The film doesn't have a twist end, but it does go in a direction I wasn't expecting. Even that is a spoiler of sorts, but not enough, I hope, to ruin it for anyone who might want to watch it. And I am recommending the film, at least to those who like old movies. I thought it was pretty good.
Much like the best part of Passage to Marseille, Strange Cargo is a prison / escape film set on Devil's Island in French Guiana. Per tradition (and as with Bogart in Passage to Marseille), we meet our current protagonist in brutal solitary confinement. Emerging from his latest spell of this, Gable proves a hardened convict, one who keeps trying to escape despite being caught again and again. Questioned by the warden as so why he doesn't just do his time and get out, Gable heatedly replies that he's a thief, and "the only thing to steal here is freedom."
Unlike Bogie, however, Gable is not an embittered former idealist. He's a crook, pure and simple, and more than willing to be violent. Things really take off when while on a work crew in town he spots dance hall girl (i.e., prostitute) Crawford on the dock. He sneaks over to her and basically warns her that he's coming for her that night, whether she wants him to or not. Nor does he seem interested in negotiating for her favors. Again, he's clearly willing to force himself on her if that's what it takes.
It's interesting as an adult to watch old movies. As a kid, you didn't realize how utterly saturated with sex they could be. More so, in a way, than modern films that feature nudity and explicit fake humping. Perhaps because sex wasn't considered as much of a given back then, it lent the whole thing more of an erotic charge. Hollywood seems to take the "third date means sex" thing as an iron law, which translates to sex becoming pretty humdrum. Back in the day (at least officially), you had to work harder for it, so the prize had more meaning.
In any case, when Gable corners Crawford on a dock and manhandles her—the presence of the working girls on the island is barely tolerated, it seems, and Crawford risks exile even if she alerts the guards to Gable's talking to her—she sneers with great loathing, "You'd like to slice yourself a piece of that cake, wouldn't you?" I've never been a huge fan of Crawford's, but she packs enough bitter carnality into that line to make it genuinely startling.
It was only after the film was over that I realized how much the basic framework resembled that of the previous Tuesdays with Lorre entry They Met in Bombay. That film was markedly inferior to this one, plagued with bad comedy (this one remains pretty much grim throughout), a poorly constructed script and a marked lack of chemistry between Gable and Rosalind Russell. That's not a problem here; Gable and Crawford had boatloads of chemistry, appearing together in eight movies.*
[*According to a short documentary on the DVD, they were also long time on-again off-again lovers. Not that that sort of thing always translates to screen chemistry, but it does with these two.]
The film is also, again, reminiscent of a goodly portion of Passage to Marseille, although what there was but one portion of the film—desperate men trying to escape from Devil's Island—pretty much is the entire plot here, albeit with Gable and Crawford's rather unromantic romance garnering a lot of the picture's attention. Not as much as you might think, though. Although the two are clearly the stars, the affair has more of an ensemble feel than I expected. Gable and Crawford are the two biggest pieces, but the film's not always about them.
Since many of the films I'm watching are recent releases from Warners DVD-R on demand service, a lot of them feature war themes. That is, after all, when Lorre was a contract player for them. This film doesn't feature such themes, however, and it's almost a relief. I like a good war film as much as anybody, but it's nice to take a break from that, too. Strange Cargo is your basic prison escape movie, although with the additional elements I've already alluded to.
And now on to Mr. Lorre. Lorre has two basic stock characters—which is actually one more than many character actors had—the sinister little fellow and the pathetic little fellow. Elisha Cook Jr. played a lot of the latter as well, but Lorre, with his pop eyes and protruding lips, did desperation about as well as any screen actor ever.
Here he plays M'sieu Pig, one of his weasel characters. As you'd expect from the character's name, he doesn't get a lot of respect. Pig isn't one of Lorre's cruel characters, however. He's more a guy who's been whipped so long that he can't imagine anything else. Every character in the movie, even the Warden who he feeds information to, evinces nothing but overt contempt for him. Pig clearly feels every casual insult hurled at him, but Lorre ably communicates a man whose entire life has been like this.
He is, however, utterly, desperately besotted with Crawford. Pig gazes upon her with nearly unbearable longing, and his attempts to blackmail her into becoming his lover seem less motivated by malice or a lack of feeling for her than because he just doesn't know anything else. It's clearly beyond his experience or comprehension to win her any other way, and moreover, he's right. How can a Lorre compete with a Clark Gable? In lessor hands we'd undoubtedly despise Pig, but in Lorre's he's a quietly tragic figure.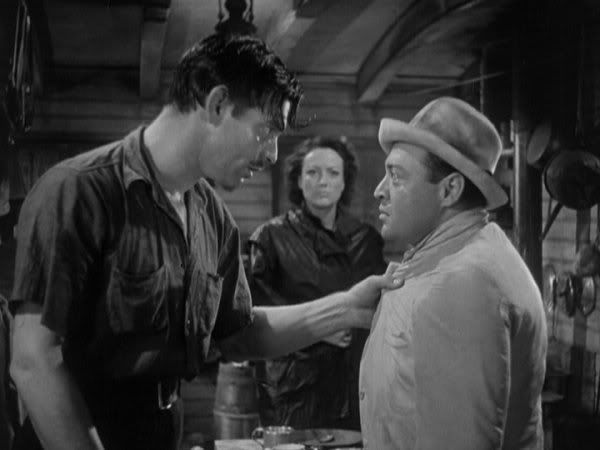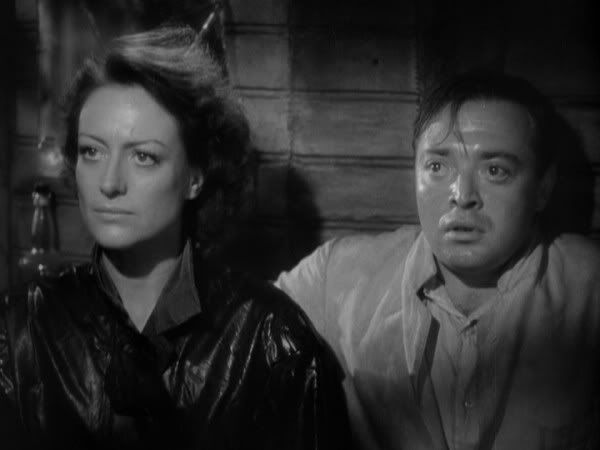 Pig disappears for much of the picture following his appearance in the beginning. Indeed, I began to fear that this would be all his role would entail. Luckily, however, he returns near the end of things, and gets some juicy scenes opposite the two stars.
I must admit to being wrong in my theories about Lorre's weirdly subdued acting in They Met in Bombay. Strange Cargo was made not too much earlier than that, and I thought maybe Lorre got up to his usual antics in this and Gable made sure he got sat on in Bombay. While it's still clear that the director of that film did indeed make Lorre turn his usage wattage down several degrees, Lorre is on his best behavior here. His acting is expert and intense, but Gable and Crawford were not the type to allow a character actor to steal a film away from them. Lorre gets more thespian leeway here than in Bombay, but doesn't attempt any scene stealing business.
Although Gable and Crawford are hilariously inappropriate actors to play French nationals—both are patently, classically American—much of the rest of the cast (including Lorre), especially Gable's fellow escapees, is suitably made up of expatriates. Ian Hunter, who plays the least brutish of the prisoners, is South African.
Hungarian actor J. Edward Bromberg was best known to me for playing the ineptly corrupt Don in Tyrone Power's The Mark of Zorro, one of my favorite movies. He also played the Dr. Van Helsing analogue in The Son of Dracula, and appeared opposite Lorre several other times (not weird, as they were both contract players), once in one of the Mr. Moto films, and again in Invisible Agent.
Paul Lukas, also Hungarian, was himself a well-known character actor. He most famously, perhaps, played Lorre's Professor employer in Disney's 20,000 Leagues Under the Sea. He also played a mad scientist in 1941's The Monster and the Girl.
Italian actor Eduardo Ciannelli is probably best known for playing the villainous Indian in Gunga Din, one of the great swashbucklers. He also played the titular Mysterious Doctor Satan, a Republic serial.  Nor was he an unknown presence in genre films. He played the High Priest in Universal's The Mummy's Hand, played a self-made monster in 1948's The Creeper, and appeared in Monster from Green Hell. Less convincingly, he was stuck in one of the dire 'comic' roles in the aforementioned They Met in Bombay.
One of the prisoners is also played by Albert Dekker. Mr. Dekker will be familiar to genre fans, as 1940 also saw him playing the titular role in Dr. Cyclops.
Strange Cargo isn't for sale separately, but is available as part of the Joan Crawford Collection Vol. 2.