I had a nice long weekend because I had taken off Thursday and Friday (although technically I didn't need the latter) because G-Fest was in town and they were showing dai kajiu movies at the Pickwick Theatre, a very sweet 1920s' movie palace that I grew up watching films in as a kid.
Thursday was the big day, as there were four movies playing, an afternoon double bill and an evening one. I knew I was going to give Friday night's 10:30 movie a pass, because I wasn't that interested in an Ultraman picture, and also knew that sheer inertial might keep me from going to see Gamera II on Saturday night, which in fact is what happened. I admit this with some degree of shame.
The first movie was a 1:00 showing of Gamera Super Monster, which was indeed as awful as I always heard. It was also HILARIOUS. Basically a clip show featuring Readers Digest condensed versions of all the fights from the earlier color Gamera movies, this had an evil spaceship that looked *coff* just slightly like a barely modified Imperial Cruiser threaten the Earth with a bunch of monsters.
Luckily, the film's Obligatory Kenny has a pet turtle that he asks to become Gamera, and I guess the turtle does, although that all happens off camera. As the heavy use of stock footage referenced above would indicate, this was an extremely cheap production. They did build a (maybe) new, largely inert Gamera prop (not a costume) for a few insert shots, although oddly it was green, despite Gamera being his normal gray in all the recycled footage. I guess nobody noticed, or more likely were like, "Eh, whatever."
Imitation Kenny (who spends a fair amount of time playing Camptown Races on his home, Wurlitzer-esque organ) is aided by three Space Chicks who appear to be relatives of Starman, and who live in a travel bag inside their van (really) and are, I guess, the sole survivors of a previous planet destroyed by the bad guys.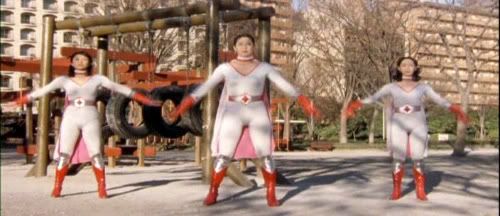 Nothing makes a damn like of sense, and man, it was awesome. Everyone should have the opportunity to see this in a theater. Hell, maybe we'll at least show it at T-Fest someday.
Speaking of awesome, the second afternoon movie was the original Mothra. 'Nuff said. The stuff in America the 'Rolisican' metropolis of 'New Kirk City,' where all the signage looks oddly American, was pretty hilarious. Mothra just flat out kills a zillion people because he's out to save the Fairy Princesses of Infant Island, and nobody holds a grudge because there's an evil capitalist of the Mwa-ha-ha! school to blame.
Took a dinner break (mmm, mac 'n cheese at Noodles and Co.) and headed back for the evening flicks. The first was my favorite of the modern Godzilla movies, Godzilla vs. Mechagodzilla 2. Mothra got a lot of play in the Hensei movies, but Rodan didn't, so this is the bee's knees as far as I'm concerned. And really, any Godzilla movie with an Ifukube score is aces with me. I kind of wish these movies didn't feel the need to actually verbalize their 'messages,' which aren't exactly subtle, but I guess you should just take that as part of their charm.
The last movie was (yay!) Gamera Guardian of the Universe, a film that kicked off what I firmly believe to be one of the two or three best sci-fi trilogies ever, no lie. It's also, aside from maybe Cronenberg's The Fly, the best remake I've ever seen, and a roadmap for the way to update material without losing what made the original tick. I've been lucky enough to see this in a theater several times before, but it really holds up, especially when you're watching it with a crowd that lets go with a lusty cheer as each monster is introduced.
As our ultra-nerdy, middle aged and fat assed crowd left the theater, we were confronted with well over a 1,000 high schoolers lined up outside; they were there to watch the midnight opening of the last Harry Potter movie. I knew those were crazily popular films, but it wasn't until then that I got that this must be the Star Wars for this generation of kids. And man, they must have started watching them when they were six or seven, because that first movie came out like a decade ago. Maybe of the kids were dressed in English school outfits, a few even in robes and stuff, and I sadly had to turn my eyes purposely away from the scads of teen girls in their little skirts and button up shirts. Were I a better man I wouldn't even have noticed in anything about an academic fashion, but I'm not, so all I could do was steadfastly avoid the temptation to gawk.
In the end, it was a good day for the Pickwick. I'd eyeball the total tickets sold combined for the two G-Fest double bills at 700 to 800, while the Harry Potter showing was a sell-out, which is saying something because the Pickwick seats over 1,400. Yep, it's a barn. I can't imagine what it was like inside; even on the street the combined noise of a thousand plus happily burbling teens was pretty loud. God love 'em, though. I hope it was everything they hoped it would be. And aside from tickets, the Pickwick was offering nicely affordable $10 T-Shirts emblazoned with both the theater's trademark façade, with four designs, one for each of the school houses in the movie; Griffendorf etc., or whatever they are. Anyway, a nice souvenir for the kids, and cheap enough you could afford all four if you wanted. Cheers to them for not trying to gouge anyone.
Saturday I got together with Paul and Holly, who will be returning to California soon, and we caught the early morning matinee of X-Men First Class. I personally thought it was better than any of the previous X-Man movies, and loads better than the awful Wolverine movie. It will also make less money than any of them, and I'd be surprised if they made a sequel to it. The X-Men meets James Bond design esthetic was fantastic though, and it had great theme music, which we only seem to get now in films like that and The Incredibles that are purposely trying to invoke the '60s. Anyway, really good, and if you haven't seen it on a big screen yet, you might want to hurry up and do so while you still can.
Oh, and I also finished a fantasy series by Kevin Hearne with a book called Hammered (following Hexed and Hounded). It's about an immortal Druid in modern America and his travails with witches, gods from various pantheons, vampires, etc. Good clean writing, some snark, lots of action, an interesting take on magic and a lot of humor. Recommended for anyone who likes the Sandman Slim books, assuming anyone's read those. Interesting publishing idea; the three paperbacks were released sequentially one a month for three months. The third book indicates a major shake-up, assuming the trilogy sells well enough to warrant another. In any case, although it takes a pretty big leap of faith on the publisher's part, it was kind of cool to read the entire set of books over three months.
That's the highlights of my weekend. How about you guys?