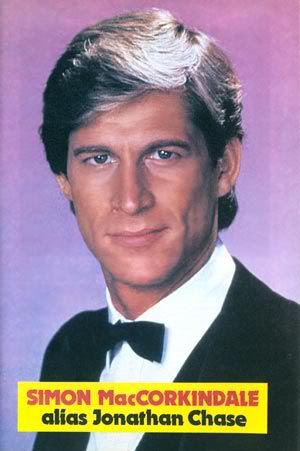 Gone at the much too early age of 58. Mr. MacCorkindale never really hits the heights of the profession, but was always available to play a certain type of heroically handsome Brit. Sadly, his name is now sort of a punchline because of his having starred in Manimal, although he was hardly the problem with that show.
Even so, I remember one early morning in the late 1990s, when I came across an episode of this dreadful syndicated series called Nightman on WGN. To my bebogglement, there was Simon MacCorkindale, 15 years after the series was cancelled, again playing his Manimal character for a crossover. Really, really weird.
Mr. MacCorkindale had several, if sadly often unimpressive, genre credits on his resume, including the Agatha Christie movie Death on the Nile, The Quatermass Conclusion, The Sword and the Sorcerer, (ugh) Wing Commander, and most notably played the doomed daredevil underwater guy in Jaws 3-D. He also did a lot of TV guest work, and would have been a familial face to TV audiences of the '80s in particular.
Mr. MacCorkindale is survived by actress Susan George, his wife since (wow) 1984. Sad how few lengthy show business marriages there are, and how many of those are ended by a premature death. Our sympathies to Ms. George.