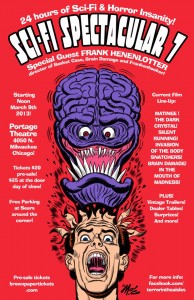 Sweet! At the Portage Theater in Chicago. Free parking in the nearby Sears lot.
Anyone in Chicago planning to attend, let me know.
Special Guests:
FRANK HENENLOTTER (dir. of Basket Case, Brain Damage, Frankenhooker)!
JAY BONANSINGA (co-author of THE WALKING DEAD: RISE OF THE GOVERNOR & WALKING DEAD: ROAD TO WOODBURY))!
NOON – ATTACK OF THE GIANT LEECHES (Roger Corman!)
1:15pm – MATINEE (Joe Dante!)
3pm – THE HEART OF THE WORLD (Guy Maddin Short)
3:05pm – THE DARK CRYSTAL (80's Awesomeness!)
5pm – SOYLENT GREEN (Heston Hysteria!)
6:45pm – ROGER CORMAN 50's Trailer Competition!
7:15pm – DEAD-ISH (Short film)
7:30pm – BRAIN DAMAGE (with FRANK HENENLOTTER in Person!)
9:45pm – CAMERA (Rare Cronenberg Short!)
10pm – INVASION OF THE BODY SNATCHERS ('78 Remake!)
Midnight – IN THE MOUTH OF MADNESS (Carpenter Craziness!)
1:45am – DARK CITY (Forbidden Futures!)
Daylight Savings Time
4:50 am – SHOCK WAVES (Nazi Zombies!)
6:30am – THE LAST MAN ON EARTH (Vincent Price Classic!)
8:15am – SILENT RUNNING (70's Sci-Fi Stunner!)
10am – IT'S SUCH A BEAUTIFUL DAY (Don Hertzfeldt Animation!)
11am – BATTLE ROYALE (Teenage Terrors!)