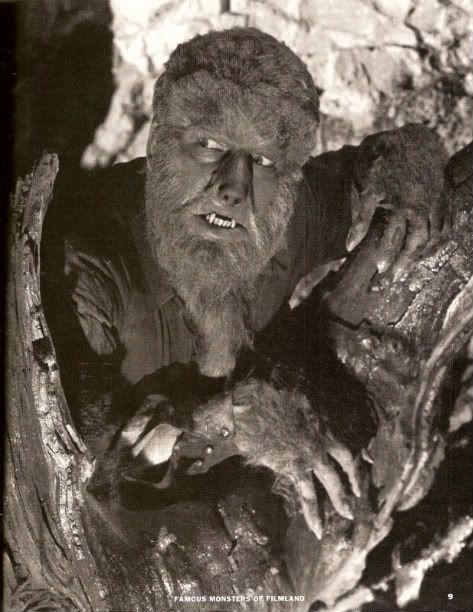 As noted last week, the invaluable TCM is running horror movies all night every Monday evening. Here's the bill of fare for tomorrow night, Oct 10th (all times CST):
7:00 PM The Wolf Man
8:15 The Uninvited (no, not that one)
10:00 Dead of Night
12:00 I Walk with a Zombie
1:15 Cat People
2:30 Short Subject: Black Cats and Broomsticks
2:45 Curse of the Cat People
4:00 Devil Bat
5:15 Dead Men Walk
Next Monday Hammer & More
Here's some notable stuff for the rest of the week.
Wednesday
9:30 AM Mr. Moto's Last Warning One of the extremely fun Peter Lorre Mr. Moto series. In another example of TCM puckishness, all the daytime selections this day have "Mr." in the title. Aside from this film, other pictures of note include Mr. Blandings Builds His Dream House (the original Money Pit) and Mr. Hulot's Holiday.
7:00 PM Manchurian Candidate Probably the best political thriller ever. Great stuff, and an essential watch for those who haven't seen it.
Thursday
8:45 AM Wages of Fear Classic French suspenser about truckers moving a highly dangerous load of nitro through the jungle. Remade as Sorcerer.
Thursday PM Mark Twain Night
Starting at 7:00, Tom Sawyer, Adventures of Huckleberry Finn, Connecticut Yankee in King Arthur's Court, Prince and the Pauper, Adventures of Mark Twain. Sadly, no listed showing of Abe Lincoln Freedom Fighter.
Friday
7:30 The Third Man One of a handful of films you literally can never have seen too often.
Friday PM Three Musketeers Night
Three versions of the tale run back to back, all lamentably short on CGI explosions and Matrix-style swordfights. They start with 1974's version, move to the 1948 (Gene Kelly!) and end with the 1935.
Friday Late Night Cult Movies
1:00 Stunt Rock Exactly what it sounds like.
2:45 Heavy Metal
Saturday
8:30 AM Beast with Five Fingers Watch Peter Lorre completely steal this film from the lead actors. The director must have known what he had, because Lorre's in the shot a lot more than he needs to be, always distracting the audience from the dull main characters with hilarious bits of business.
Sunday
6:30 Day at the Races One of the very best Marx Brothers movie, although that black musical number can be a bit wince-inducing.
Sunday PM
Every Sunday (including tonight) features a ton of essential flicks from Star of the Month Buster Keaton. However, EVERYONE needs to see
7:00 PM Seven Chances Remember that 3 Stooges short where Shemp has to be married by 5:00 to inherit a fortune and a bunch of ex-girlfriends start trying to hunt him down? Same story, but with one of the movie amazing film sequences you will ever see in your life. I guarantee it. Jackie Chan but follows in the footsteps of Keaton. Everything else is worth watching tonight too, but definitely see this one.