Jabootu correspondent Rock Baker now kindly follows up his incisive interview with Lost Skeleton of Cadavra auteur Larry Blamire. Thanks, Rock!*
[*Please ignore where it says "By Ken Begg" at the bottom of the article box! I'm not trying to steal Rock's well-earned glory, it's just that I don't know how to add another contributor to the credit list.]
******
"The Dead Are After Me"
An Interview with Robert Deveau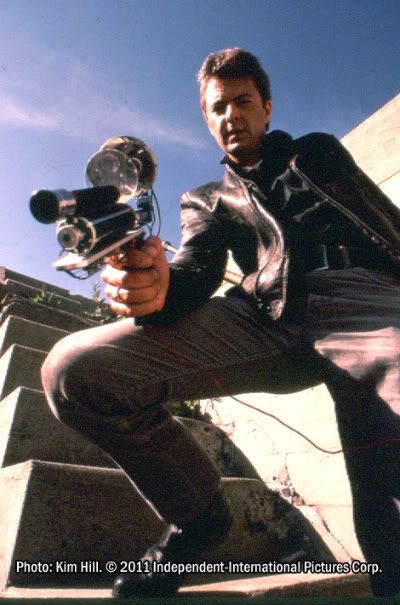 If you frequent this site, chances are you either know him as zombie-dueling Morgan Randall in RAIDERS OF THE LIVING DEAD or as a member of Larry Blamire's stock company. Ladies and Gentlemen, it was my great pleasure to interview Robert Deveau. He's a great guy, and I'm happy to call him my friend (a Facebook friend, but still a friend).
After my interview with Larry Blamire, I quipped to Bob that maybe I should interview him next. Bob went for the idea, and here we are today! Very warm thanks to Bob for letting me question him, and to Ken for loaning me his copy of Raiders of the Living Dead so I could view the film for the purposes of this interview. For the use of the intro photo, my sincere thanks to Mr. Tim Ferrante and Mr. Sam Sherman. All other photos used here courtesy of Bob Deveau. Thanks again, Bob!
1) Tell us first a little about yourself, and how you got into acting.
I was one of those kids who, judging by photos and home movies, was constantly "on". I started when I was quite young putting on shows in my parents' basement and garage, and when they bought a Kodak Brownie 8mm movie camera I quickly commandeered it and made at least two semi-improvised films a year with titles like I WAS THE BOY WEREWOLF, THE MARTIAN, THE WOLF MONSTERS, and DUEL WITH DRACULA. Later, in my last year of high school, I met a group of young men and women who were studying at a local theatre school, and, through one of them, played the role of Satan in an original production based on the Old Testament. From that point forward, I didn't take a break from acting for the next 15 years.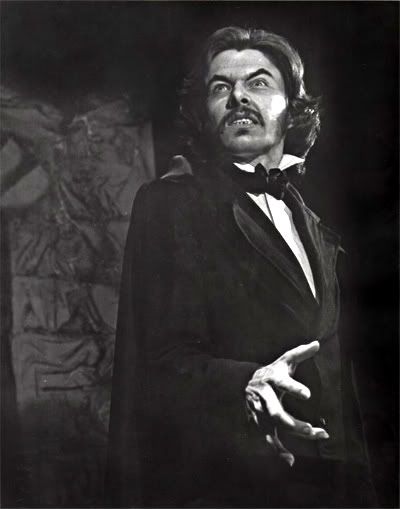 2) Which stage productions are you most happy with/most proud of/did you enjoy the most?
I am most proud of the production of "Dracula" I co-wrote with the director, in which I played the title role. Not that I was a particularly effective Dracula (it wasn't really a role I was right for), but the script adhered to the novel much more closely than any other play or film up to that time, we had great production design, and it was quite successful, running for several months.
I am most happy with my work in Larry Blamire's first play, "In The Nations", in which I played a hotheaded outlaw named Lamarteau. The most enjoyable stage productions I've done were Larry's "Jump Camp", which featured a brilliant Who's Who of Boston theatre actors, and "The War of The Worlds", my first show with the Beau Jest Moving Theatre who I've now been working with for over ten years.
3) You found yourself cast in a decent little horror flick called DYING DAY, which sadly went unreleased. How did you get the part of Morgan Randall? And what do you remember about working on that version of the film?
The writer/director of DYING DAY was Brett Piper, from New Hampshire, who somehow found his way to a theatre where I was working in Boston and auditioned me and several other Boston actors for roles. I recall reading the script and thinking, though the plot was familiar, he had a nice ear for realistic dialog and characters.
He cast me and Donna Asali, my then-girlfriend (now wife) as the male and female leads, and our friend Bob Sacchetti as the villain. We were all performing in plays in Boston at the time, so we would drive up to Derry, NH every Saturday morning, act for Brett all day, then drive back to Boston for our evening performances, then drive back up to NH on Sunday mornings. After some months of shooting on weekends, our schedules opened up enough for Brett to have us for 3 or 4 solid days.
Brett was (and is) a very talented guy – he had a room full of model dinosaurs he had built from scratch – but wasn't used to working with actors, at least at that time. His budget was so low that he tried to do nearly everything himself and that sometimes caused delays. But mostly, it was fun playing hero and getting paid for it; it often reminded me of the 8mm movies I made as a kid.
4) Did you attempt to find more film work after you did DYING DAY?
At the time, there was some feature film and TV work in Boston, and like every other actor in New England I had at least one speaking part in SPENSER: FOR HIRE with Robert Urich, as well as commercials, industrials, and extra work on big budget films.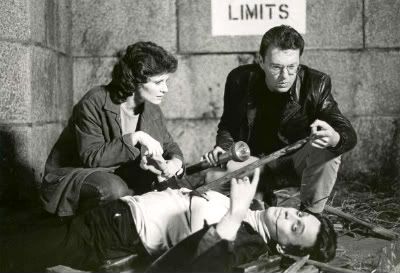 5) Sam Sherman of Independent International picked up DYING DAY for release, but didn't feel the film was ready. So he shot new scenes and changed the entire dynamic of the story. You and Donna were brought back to play Morgan and Shelley once again as the film was changed to DARK NIGHT. What was it like going back to the material, and how was the shoot compared to the original DYING DAY shoot?
Sam Sherman is one of the nicest men you'll ever meet, and his knowledge of film – especially B movies, serials and westerns – is encyclopedic. As a writer/director, though, he had some great ideas that I don't think were as fully realized as they could have been. However, compared to the original film, his budget felt like we were working on LAWRENCE OF ARABIA. We even had our own trailer!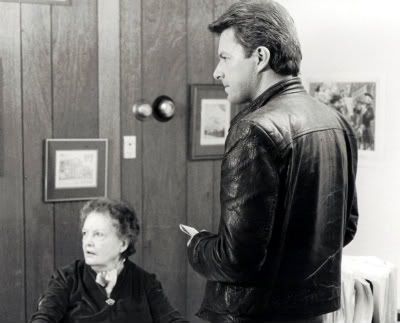 6) In this version you got a chance to share the screen with some vet actors from the Golden Age of Hollywood. What do you recall about working alongside cowboy star Bob Allen and exotic actress Zita Johann?
That was the major bonus of working on Sam's two versions of the film. Zita Johann had been the star of the play in which Clark Gable made his Broadway debut; she was the female lead in THE MUMMY with Boris Karloff; she was married to John Houseman, Orson Welles' partner in the Mercury Theatre; she was directed by Howard Hawks and D.W. Griffith!
Bob Allen had also acted on Broadway, had been a contract player at Columbia, had also worked with Karloff and many other Hollywood greats, and was still active in national commercials. I wish I had thought to bring a tape recorder with me. Meeting and working with them was like touching a piece of genuine Hollywood history. Bob was quiet, but when asked would open up about what the notorious Harry Cohn was really like (Bob never had any problem with him).
Zita was much more opinionated, having never much cared for acting in films, and had been retired for years. She didn't like that Edward G. Robinson, for example, never wanted to rehearse his scenes with her for Hawks' TIGER SHARK, preferring to let things happen in the moment.
7)   Sherman was still toying with the film before he felt it ready to release. DARK NIGHT was tinkered with yet again to become RAIDERS OF THE LIVING DEAD, which is, to be frank, a mess. Sherman brought you back once again to play Morgan Randall, giving you the impressive distinction of playing the same character in three different films that are the same movie! The final product looks wildly chaotic, but what can you tell us about doing the version of the story which was finally released?
A character who was a minor supporting role in the original is turned into the secret villain, all the original villain's dialog is removed, Bob Allen's bad guy character in Version 2 becomes a good guy for Version 3, Shelley the feisty nurse who shoots the villain in Version 1 is tied up, scared and inactive by Version 3, we're constantly switching from footage shot in New Hampshire to footage shot in New Jersey two and sometimes three years later while my haircut goes from short to normal, and an obnoxious kid invents a laser gun from a laser disc player – what do you mean RAIDERS is a mess?
Actually, I had fun shooting it, so I can't complain. What I missed was the logic and natural dialog of Brett Piper's original DYING DAY. If Sam had somehow been able to meld his superior production values to Brett's natural characters, we would have had something. I do, however, love the theme song.
8) What was your reaction to the film when you saw it? Did you have a chance to see each version as it finished shooting?
Brett gave me a VHS copy of his DYING DAY work print, which is pretty much what you see on Image's DVD. I'm not sure if I ever saw DARK NIGHT prior to its release as a DVD extra. I think the first time I saw the finished version of RAIDERS was when it was aired in prime-time Saturday night on the USA Network. I thought at the time that it was the only film I'd ever seen that was improved by commercial interruption. Now, if anyone is curious, I tell them to watch the DVD, if they must, for the first (and only) time with Sam Sherman's audio commentary on; he is a very entertaining storyteller.
9) After that, did you ever plan on acting in movies again?
Ha! You mean, did I think my career was over? No, I was proud of the fact that I had played the leading role in a little independent film that had actually been released by the same man who gave Lon Chaney and J. Carroll Naish their last jobs in front of a camera. And being depicted by Basil Gogos in the poster art was a delight all by itself.
10) Fast forward to 2001 and Larry Blamire is putting together this little project called THE LOST SKELETON OF CADAVRA. How early did you become involved in that project?
I became involved with THE LOST SKELETON OF CADAVRA at the moment Larry got the money to make the film. He had been living in L.A. for only a couple of months, when he called me in Boston to tell me about the project, and that he wanted me to play The Farmer. We discussed the character, and arrived at a definition of him somewhere between the farmer from THE BLOB and Denver Pyle.
11) You became the production's still photographer by virtue of the fact that you had a camera, correct? You'd been snapping shots of famous faces for quite a while before that, tell us about your hobby.
I shot my first celebrity photo at New England's own Disneyland, which was called Pleasure Island. When the amusement park opened in 1961, I was 9 years old. I took exactly one photograph of the Three Stooges on stage – which I still have. I've since photographed Orson Welles, Jerry Lewis, Elvis Presley, Liza Minnelli, in addition to the familiar faces who've worked on Larry's movies, like Dick Miller, Betty Garrett, Kevin McCarthy, H.M. Wynant and James Karen.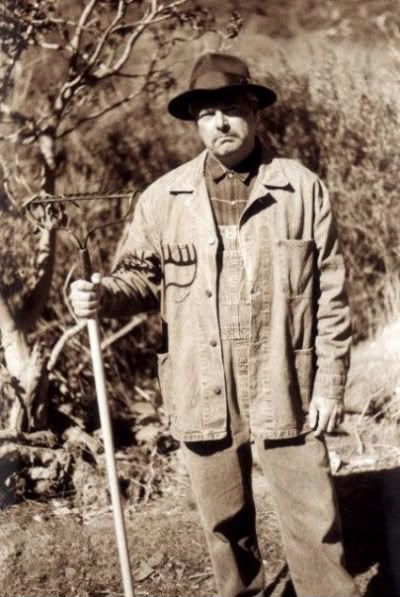 12) Any fascinating tidbits about playing The Doomed Farmer?
In my first scene, Dr. Paul Armstrong (Larry Blamire) and his wife Betty (Fay Masterson) are looking for Cadavra Cave. They spot a farmer by the side of the road and ask him for directions. I asked Larry if I should be doing anything as the car approached me; maybe using my rake on the nearby weeds, or something like that. He replied that I should just stand there by the side of the road, as if I were a farmer standing by the side of the road waiting for somebody to drive up and ask for directions. You can't get motivation any more clear than that, can you?
13) TRAIL OF THE SCREAMING FOREHEAD is still, as of this writing, absent from U.S. video shelves. What was your role in that film?
I play Chief Bartnett, chief of police of the town of Longhead Bay. It's my largest role in a Blamire film thus far: I was on set for the entire three weeks of shooting. One of my favorite scenes was with H.M. Wynant and Susan McConnell. It was three pages of very tricky dialog, as we each try to determine if all of us have been taken over by alien foreheads. We ran that scene many, many times, and were justly proud that we got it letter prefect in two unbroken takes. It was somewhat edited down in the director's cut, though.
14) You found yourself in yet another project involving living dead guys in THE LOST SKELETON RETURNS AGAIN. Tell us (Slooooowwly) about your part, and how how many takes had to be done for that scene. I can't imagine that routine not cracking up everyone involved!
That was the hardest scene I've ever done on film and I'm really pleased that people find it so funny. It involved precise timing, multiple props and a lot of lines that were very similar to other lines. With two cameras rolling (or was it three on that scene?) and I've forgotten how many takes, Larry must have had a plethora of choices to make in the editing room.
Again, I have to give him full credit for his precise direction of me in that scene. By the way, my performance was based on a character actor from the 50′s and 60′s named Ken Lynch, who acted in innumerable TV shows and movies. He played Lt. Keller in several episodes of "Honey West". I wasn't trying to do an impression of him, but his no-nonsense manner of delivery was an inspiration. And my partner in that scene, Kevin Quinn, was a joy to work with.
15) In DARK AND STORMY NIGHT you played Archie, the sinister cook. (And I must pause to tell you the shot where the camera pans past you and we hear the emotionless "Ow" is simply hysterical!) The production was quite different from the earlier location-based shoots for the Skeleton movies, so can you elaborate on what it was like?
That was the first time Larry had the luxury of shooting completely in a studio, and it made things so much easier in so many ways. Everything in that movie happens inside: even the rain-swept exterior of the mansion, and the bridge with the taxi are all miniatures, built by the brilliant Tony Tremblay. There are beautiful details in Archie's kitchen, for example, that you never get to see. My sole regret is that my time on set didn't jibe with that of Bob Burns, who I met briefly on the LOST SKELETON RETURNS location. He is so expressive beneath that gorilla suit! (If you haven't seen his work in the "Ghost Busters" TV series with Larry Storch and Forrest Tucker, you owe it to yourself to see it.)
16) As a fun side note, your character became production slang. Tell us what "Pulling an Archie" means.
The movie was shot using two cameras; one would usually be shooting in master shot and the other would be shooting a close-up or two-shot, and they would often be moving together. Our terrific Cinematographer, A.J. Rickert-Epstein, came up with the phrase "pulling an Archie", because it seemed like every time they shot my character – who was entirely stationary – they had to move the camera. I am honored.
17) Where to now? I assume Larry has another part lined up for you in his next adventure. Can you give us a hint about what that project will be? Are you still active on the stage?
He's mentioned a role for me in A TV LIFE, and I believe that Handscombe "Slowly" Draile is once again in THE LOST SKELETON WALKS AMONG US, but Larry has so many terrific scripts "in the drawer", I hope he has other things in mind for me. I have no idea what his next project might be; one of the fun things about working with Larry is that you never know what's next.
And yes, I'm still active on stage here in Boston: I've been working with the Beau Jest Moving Theatre since we did "The War of the Worlds" about 12 years ago. Beau Jest creates most of its shows improvisationally; we worked for six months on developing our version of SEVEN SAMURAI, which had eight actors playing everything: the farmers, the bandits, the samurai, the blades of grass, everything. We've just recently decided that we're doing Tennessee Williams' "Ten Blocks on the Camino Real" next Spring.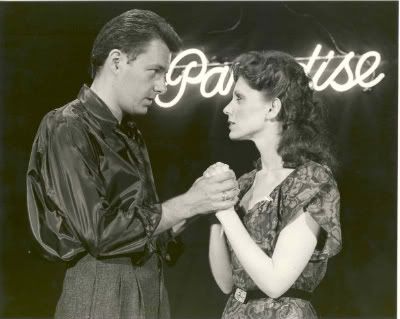 18) Tell us about how you met Donna. Had you met on the stage, or before? I have to ask how she feels about DYING DAY / RAIDERS.
Donna and I met on stage, quite literally. She auditioned for the theatre company I was a member of at the time. Our first kiss was on stage and I guess she liked it; I know I did. How she feels about RAIDERS OF THE LIVING DEAD can't be expressed in polite company.
19) Do you still have any of your childhood horror movies?
Yes.
20) I'm limiting myself to twenty questions, which means there are plenty of things I could ask to end this interview. I could ask you to tell us about your website, anything special you might want to say to your fans (and you can still work that stuff into your answer, we won't mind!), but the thing I most want expounded upon is the Doomed Farmer giving directions to the "Cathedral of Lost Soap." Was that intentional? Larry is asked about it in the commentary track, but I was never clear on what was supposed to be going on. So please, let us in on the gag, if you would.
That was absolutely intentional, as is everything in a Larry Blamire movie. You'd have to ask him where the Cathedral of Lost Soap came from, but I suspect he just liked the sound of it. No in-joke, just another example of the Fertile Mind of Larry Blamire.
Thank you so much, Bob. It has been a real pleasure!