With T-Fest 2012 only a week and change away, here's a report from attendee Chad regarding last year's event, just to give you a taste of things.
Guns, Gorillas, and Gazongas – Reflections on T-Fest 2011
Once again, I'm here to bring you the low-down on T-Fest.  We had an excellent turn-out this year, probably one of the biggest yet.  This was great, except that the AC in the place couldn't keep up with the feverish excitement of the attendees, and it got pretty warm in there.  Still, it's worth the discomfort, although I won't mind if it's never that warm again.
Once more, we were out at Sandy's new digs in the offices of Barking Lizards, with couches and chairs galore.  The sound system was MUCH improved, although in a couple of cases the DVDs themselves were a problem.  We'll get to that in due time.
A few new faces (whose names I didn't always catch, despite my best efforts) and a slew of old ones were in attendance, and ready for action.
Roll call!
First, the returners:
Ken!
Sandy!
Arthur, son of Sandy!
Dr. Freex, Mrs. Freex, and Spawn of Freex!
Kirk and Patty, with special guests Samantha, Rachel, and Sheepie!
Mary!  (I'll pull the moon down for you!)
Matthew!
Professor Chris!  (Formerly the Lawyer known as Chris!)
Guy!  (I made sure to write your name extra-large in my notes this time around.)
Mason, better known as Billy Jack Shirt Guy!  (And yes, he again wore it.)
Angela, Rich, and the Cookies!
The Chads, Black and White!
Fashionably late arrivals, Reed and Frank!z
Extra special, extra late arrival, birthday boy Spencer, son of Sandy!
New arrivals:
Jamie, also known as Mr. Mary!
Sara, friend of Black Chad!
Jake and Josh, co-workers of Sandy!
Bruce, whose connection to the Fest-goers I did not catch!
The guy in the Iron Maiden shirt!
That other guy!
I pulled up just ahead of Rich, Angela, and Guy, and we headed on in.  They must not have seen me quickly changing out of my driving shirt (I had the car with no AC that day) as none of them turned to stone.  It was just after 10 a.m. when we got inside.  We proved a tad late to the proceedings, and the first movie had just started rolling.  However, the rich, stentorian tones of the opening narration immediately twigged me to which movie we'd started with…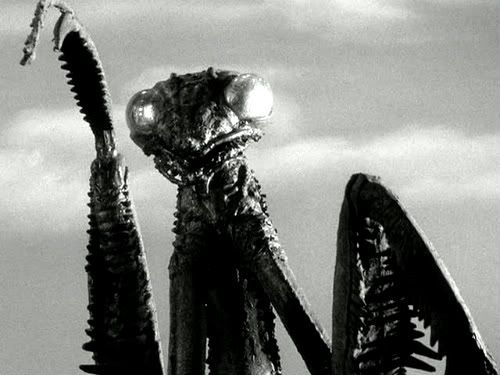 The Deadly Mantis
Ah, a giant bug movie to start things off.  I can handle that.
There's this kaiju-sized mantis that was somehow frozen in the Arctic ice millions of years ago.  Nuclear bomb tests release it, because that's what nuclear bomb tests do in movies like this.  I have to assume the nuclear energy mutated it as well, because even though something that large would have some retention of heat due to mass, it's still an insect and it was real cold up in the Arctic back then.  Not like today, what with the greenhouse effects and global warmings and what-not.
But enough about interesting things like enormous, carnivorous insects!  The movie proceeds to tell us more about radar lines America set up in Canada to watch for Commies than I ever wanted to know…and probably more than there actually is to know, frankly.  I mean, this thing gives Radar Secret Service a run for its money in the radar department.  Radar stations in the deep north start being destroyed by something that only briefly shows up on their radar.  The posts are found utterly trashed, their residents vanishing with little trace.  Col. Joe Parkman investigates, but the only lead is an enormous print left at each scene.  Eventually, a piece of the mantis is found in the wreckage of a downed aircraft.  Dr. Ned Jackson, a contender for title of "World's Worst Paleontologist," is brought in to help, along with a lady reporter with a nose for news.  After many startling scienmatifical pronouncements, he decides that a huge mantis is on the loose.
Eventually the mantis confirms its existence to our heroes, but guns and flamethrowers just seem to annoy it.  The mantis continues down the eastern seaboard, making a stop at Washington, D.C. to climb on the Washington Monument before heading toward New York.  The mantis is badly injured when the Col., seeing that missiles aren't working, ejects and lets his jet ram into its torso.  The mantis hides in the Manhattan Tunnel and the Col. and his men bring "chemical mines" in to finish the poor thing off.  Then the Col. gets the girl and we end on a final shot of the dead deadly mantis.
It's not the best of the giant bug movies, but it probably ranks among the top half of them.  Keep in mind, that's not saying a lot, since most of them aren't very good.  The beginning drags a bit, and the massive amounts of stock footage in this part of the movie do not help any.  Once we finally see the mantis, things pick up.  The puppet they use for the mantis is pretty sweet, and oddly cute in a pug sort of way.  I have to believe Ms. Kingsley over at AYCYAS! squealed and bounced around the first time she saw it.  It has a couple of quirks real mantises don't (like a lack of antennae), but maybe that's because it's prehistoric.  Still, it's a fine piece of work and I like it very much, along with its somewhat suspect roar.  There's one brief scene of the mantis climbing on the Washington Monument that was done with a real mantis and a model.  I'm kind of torn on that scene.  I love it, and wish they could have done more scenes like it, but it also makes the puppet look less nifty in comparison, which is rather unfair to it.  Kind of like the real shark scenes vs. Bruce's in Jaws.
The acting is mostly tolerable, although the wormy OCR at the main air base needed a good beating.  No matter how serious he is, though, Dr. Ned's amazing pronouncements throughout the movie are a hilarity highlight.  Sandy in particular loved the simple three-step evolution process he shows some other scientists:  giant squid, dinosaurs, cavemen.  It's just that easy!  At one point, he shows them a large beetle preserved in amber and calls it an ant.  Later, when he's examining the spur from the mantis' forelimb, he says it can't be from an animal because all animals have bony skeletons.  He then is asked if there's anything that doesn't have bony skeletons, and he proceeds to rattle off several animals that don't have bony skeletons.  I'm surprised that, upon seeing the mantis for the first time, he didn't start screaming about the enormous moth outside.  His eventual identification of the spur as coming from a mantis clearly only happens because IITS™.
Ken and Kirk began their campaign to crush my spirit during this movie.  I guess this was revenge for that Tea Party comment.  To be fair, though, I inadvertently gave them a clear opening.  When Dr. Ned says all animals have bony skeletons, I innocently commented, "You know, like jellyfish."  I don't know why my mind decided I should say the J-word; I guess my subconscious is massively masochistic.  Kirk was like a starving badger on a baked ham:  "A jilla-jalla-jellyfish?"  Ken then joined right in with him.  Bastards.  Bastard-coated bastards.
They all thought I was joking when I very loudly announced that I would destroy all of them, and oh, did they laugh.
They'll be laughing, all right.
ALL THE WAY TO HELL.
Gun targets:  I guess this feature was pretty popular last go-round, as more than one person made sure I was taking notes on this.  However, it was harder than last time, as we had at least twice as many guns as before.  Some of them were a bit worn out, and I ended up throwing my darts because the popular kids were hogging the good guns.  Still, good times…at least at first.
Dr. Ned got pegged when he made his ridiculous pronouncements.  The OCR got it because he deserved it.  We tried to stop the Col. from macking on the female lead, and especially to stop his odd jaw movements, but he ignored us.  The mantis took a lot of fire, but our weapons had no effect!
She (1982)
This is a post-apoc flick with Sandahl Bergman in the title role.  It has absolutely nothing to do with the 1925 film version; and although I haven't read the original story, I feel safe in saying it has absolutely nothing to do with that, either.  I recall this movie being pretty boring, and WAY too long (it's about an hour and 45 minutes in length.)  I'd only seen it the one time, way back in the mid-90s, but wasn't looking forward to it.  I mean, I haven't bothered to watch it since that first time.  She doesn't have an official DVD release, so we were using one made from a VHS.  The sound levels were not good; while you could hear the music, you could barely hear the dialogue.  I advised that you probably didn't need words to follow the plot, and that it'd probably be better without said dialogue.  It was decided to just go to a different movie instead.  This proved to be the right choice…
The Lost Empire
My understanding is that this is the "good" Jim Wynorski movie, kind of like Hollywood Chainsaw Hookers is the "good" Fred Olen Ray movie.  Well, I find it hard to argue with that assessment.
This movie could have been awesome if they'd stuck with the promise of their opening scene.  Ninjas break into a mysterious old curio shop to steal a glowing stone, and end up killing some security guards and cops with ninja star yo-yos.  I don't know how having them swing and bounce on a string before tossing them makes them superior to normal shuriken, but damned if it doesn't.  One security guard barely survives, and the ninjas get shot.  Not particularly stealthy, these ninjas.  Sadly, we'll see no more of the yo-yo ninjas in the movie.
Next scene.  Some random criminals take a classroom hostage.  A leather-clad biker rides into the school brandishing a Magnum that should be taking their arm off every time they fire it.  I guess it's a cop since the police do not try and stop this person from barging on in, gun blazing.  The criminals die, the rider takes off their obscuring helmet, and OMGWTF it's a woman!!  I'm SHOCKED I tell you!   She makes a sub-Dirty Harry quip, apparently so we'll side with the bad guys.  We find out her name is Angel.  Then she finds out her brother's in the hospital.  If you didn't immediately deduce that it's the security guard, turn in your Bad Movie Watching credentials right now.
The brother gives her a cryptic message that sends her on her way to find out what's going on here.  His role fulfilled, he kacks it a couple of scenes later.  Angel and her FBI agent boyfriend determine that Dr. Sin Do is behind all this.  She investigates the store, and the magic glowing stone floats into her purse.
Angel finds out that Dr. Sin is holding an Enter the Dragon tournament, so she gets a couple of friends to help.  One is named "Whitestar," and if you guessed she's supposed to be an Indian while looking as Indian as Tom Laughlin, good for you.  Her outfits look like something a young woman from the '80s would wear if they were a fan of the Indian in the Village People.  She is VERY well-endowed.  Most of the men present thought she was too much woman for them.  I did not share those feelings.
The other friend is named Heather.  She's in prison, and makes a deal to get out after wrestling Angelique Pettyjohn in the mud for a while.  The boyfriend eventually follows, somehow, because she left her purse and the stone's in it and all.  The girls kick some ass, take off their tops, and the world is saved.
I have to admit, this was a pretty nifty little exploitation flick.  I probably would've loved it more had I seen it when I was 16, but it still tickled me.  Unlike some later Wynorski pics, this one never goes too far in acknowledging the ridiculousness of it all, only occasionally winking at the audience.  This, of course, makes it funnier (although there are some genuine laughs to be had as well.)
There isn't anything I would call good here, but it's entertaining, and that's the important thing.  Plenty of good-looking women getting undressed throughout, inept fight scenes that manage to be charming rather than grating, bad dialogue that is usually amusing, acting just good enough to carry things along, and a painfully-underused Angus Scrimm as Dr. Sin.  (To be fair, they probably couldn't afford him for very long.)  There's a big bald goon with crazy eyebrows that growls at everyone in a gravely voice; he was cool.  (Much like rice.)
The bad guys track women trying to escape the tournament with a man in a ratty ape costume gorilla.  Dr. Sin's secret weapon is…well, let's just cut to the chase.  It's a giant metal cock-and-balls that shoots a death ray.  There is absolutely no way this was unintentional.  Seasoned B-movie veterans were still shocked by the blatancy of it.  I applaud the filmmakers' moxie.
This movie is just a light, breezy nonsense that passes quickly and is more fun than the sum of its parts.  If you can track down a copy, I don't think you'll regret it.  I know I'd watch it again.
What would become a theme emerged here, namely people being very unsafe with guns.  More than once, friends point guns at other friends whilst conversing.  That's a big no-no, kids!  We also had another theme, characters not as good at their jobs as they're billed to be.  I don't know if most of them reached the level of an Informed Attribute™, but a couple came close.  For example, these girls are supposed to be dangerous combatants, but…yeah, I'm not buying it.  Sorry.
Gun targets:  Most of the leads took a few shots.  Rick in particular, since he was kind of a schmendrick.  Raven de la Croix's big old melons made her a natural target.  We all helped bring down the guards, except for that big bald guy who was too much man for the darts to slow him down.  I'm sad to say that Dr. Sin took several as well.  I know he was slumming and hamming it up, but come on, it's the Tall Man, people!  Show some respect!
Ultraman, ep. 14:  The Pearl Defense Directive
Man, this show has been great.  I've been going through the series, and am just about done (sadly.)  This is one of the funnier ones, and Sandy showed good taste in picking it for T-Fest.
This episode features the monster Gamakujira, which means "pearl eater."  This is a convenient name, as sure enough it eats pearls.  Oysters, too.  It's a big, silly-looking critter, kind of like a big crocodile with tiny teeth, pearl-looking growths on its skin, a blowhole, flippers and a hollow tube of a tongue used to suck up its preferred foods.
Here, look at it.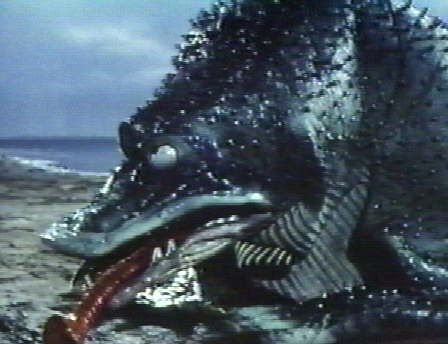 No, it's not gazing up at something.  Its eyes always look like that.  I don't know why, unless that story my mom told me when I was little about getting your eyes stuck from rolling them too much is true.  It has one roar and you're going to hear that noise a lot.  This is about the only downside to the series:  the monsters rarely shut the hell up, or bother to change up their vocals.
Anyway.  Pearl supplies are falling, and prices are skyrocketing.  No one knows where the pearls are going.  (Considering they live in Japan, you'd think they'd just automatically assume it was a giant monster.)  Now, the previous episode featured an ugly-ass beastie that was sinking oil tankers and slurping up the petroleum; after that, the loss of oyster waste seems pretty damn trivial.  Oh, but Akiko Fuji, Science Patrol member, loves pearls, so let's set aside saving the world and solve the mystery of the missing luxury items!
This attack on pearls leads to "the wrath of a woman."  No, seriously, she actually says this when her teammates ask her what the big deal is.  Naturally, being men, they don't understand.  Not that said wrath helps any.  Her prayers to the monster aren't any help, either.  Don't get me wrong, Fuji's usually quite competent and resourceful.  I guess the pearl thing has her off her game.
The monster's pretty mellow, all things considered.  It's just hungry, and these people keep interrupting its lunch.  It's just misunderstood.  I blame Fuji and her wrath for this.  As the Science Patrol tend to do, they try guns and missiles, but they just kind of annoy Gamakujira.  Once in a while the monster sprays superheated water from its blowhole.  They decide it's absorbing the energy of their attacks and then has to release it this way.  Okay then.
Then the insanity ramps up.  They somehow string a huge net between their two jets, in midair no less, and scoop up the monster and fly it around.  They run some current into the net and start shocking it.  It manages to get a claw free and bats one of the jets.  If you know anything about this show, you've already guessed Shin Hayata, aka Ultraman's alter ego, is in said jet.  It crashes, and he gets hurt.  Fuji checks on him, and then leaves him conveniently alone.  This would normally mean he'd take this opportunity to change into Ultraman, but today it means he's gonna take a siesta.
The Science Patrol's got one more plan.  First, they drop pearl bombs, which look just like pearls.  The monster eats them, then after a certain amount of time they explode.  Oh, yes.  The Science Patrol has whatever-bombs the way Batman has Bat-whatevers.  I totally want to work for them.  While the monster's trying to find a gigantic Zantac™, they fire a rocket at it.  The rocket proceeds to ram up the monster's ass and send it soaring towards the stratosphere.
I'll let that sink in for a moment.
Oh, sure, technically it's poking it in the upper base of the tail, but you and I both know damn well that missile wouldn't stay there unless it was in its ass.  It's a monster, they have asses in weird places, all right?
Well, Hayata finally decides to become Ultraman and flies after the monster.  The monster does a huge loop and comes back toward Ultraman.  I guess it learned to steer by flexing its buttcheeks?  If the rocket was under the Patrol's control, they never bothered to mention it.  Anyway, since everything else at this point is like a fever dream, Ultraman and the monster collide and the monster pulls a Jaws:  the Revenge, if you know what I'm saying.
This is one of the rare times Ultraman's Color Timer doesn't go off, it's over so fast.  Talk about phoning it in.  We end with Fuji putting herself into serious debt with a huge pearl ensemble, and one of her fellow Patrol members is stuck lugging all her boxes around (I guess she bought some new clothes to go with the jewelry) while she steadfastly ignores his increasingly precarious balancing act and refuses to help him.  Bitch.
Ultraman rules.  Go get the series on DVD already.
Themes:  Not at all.  The Science Patrol are professionals who handle their guns quite well and are good at their jobs.  Okay, the monster's overall threat was probably not worth the effort put into destroying it.
Gun targets:  Mostly the monster.  The darts were about as effective as the Patrol's weapons.  Fuji took a few, too.  Based on this episode, I can't blame them.  This was definitely not her finest moment.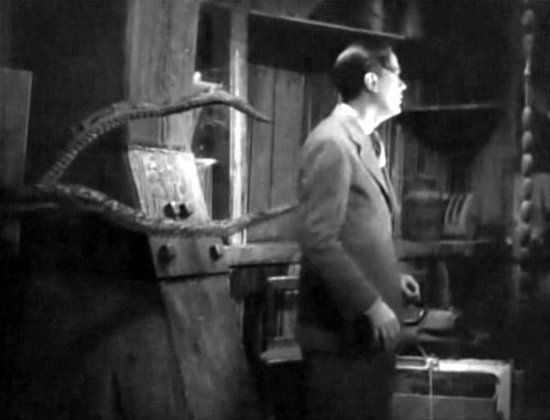 Sh!  The Octopus
I was a little leery of this.  Nothing I'd read of it made me interested in seeing it.
Surprisingly enough, I recognized the opening scenes.  I can only assume I tried to watch it at some point, gave up, and promptly forgot about it.
The storyline's all over the map (although there's a reason for it, it turns out.)  Let's see…there's a young guy who decides to move into a lighthouse, I guess to be alone to paint (he's an artist.)  An over-the-top old salt with a hook hand skulks around suspiciously.  Why, yes, his name IS Captain Hook.
A couple of OCR cops find out that the one's wife is due to give birth any second, which seems to surprise him.  I know guys are supposed to be unobservant, but Jesus.  The two damn near plow over a screaming woman, who's running around in the rain.  Man, I hate when that happens.  They follow her to the lighthouse because her father's missing.  They think he's been murdered, but it turns out it's a dummy with ketchup on it.  Also, the Octopus of Crime is on the loose, with their submarine and pet attack octopus. The octopus is constantly climbing around outside, trying to (and occasionally succeeding in) grabbing people when their backs are turned.
The OoC turns out to be an old hag, and some random animals show up to torment the main OCR cop in the caves under the lighthouse where everyone ends up.  There are secret agents and double agents and then the whole lighthouse is blown up by the OoC's booby-trap, killing most of the cast (YES!!!)  Then it turns out to be a dream one of the OCR cops is having (BOO!!!)  He's not even a cop in real life, although his wife is having a baby.  Everyone in the hospital was in the dream.  Sadly, I can't accuse them of ripping of the 1939 Wizard of Oz movie because this came out two years before.  The final joke at the end is horrifying.
Man, I know comedy is hard, but I'm not sure they were even trying here.  I refuse to believe comedy standards were so different when this movie was made that this sort of thing could've been considered hilarious.  The OCR cops were low-rent Abbott and Costello clones, and the one who's having the dream mugs as shamelessly as just about anyone I've ever seen.  None of the jokes were funny, and most laughter, of which there was very little, was unintentional.  The moans, on the other hand, were quite intentional, I assure you.
Flashes of fun are there, and in a case like this you take what you can get.  The rubber octopus is kind of fun.  A tortoise, some frogs, and a sea lion show up out of nowhere in the caves and torment that mugging OCR cop, searing his ass with a candle, stealing his shoes, and other such delightful pranks.  That was pretty nice, although if they'd gone all Day of the Animals on him it would've greatly helped the picture.  The special effect used for the hag's reveal was so cool I had to ask how they did it.  Ken told me it was done with special paint and the proper light levels.  Damn, it was neat.  The movie was pretty short, although it feels twice as long as it is.
The ending is not quite Nightmare City levels of pain and cruelty, but it's closer than you might think.  Blowing up these bastards, and then taking it all away from us…man, that's just mean.  Then we get more unfunny comedy just to rub it in.  This culminates in baby twins played by the other OCR cop with clown make-up on.  Holy crap.  Talk about your nightmare fuel…In fact, I channeled Black Chad's reaction to Theodore Rex and shouted, "Fuck you, movie!" at the end.  It deserved it, and I offer no apologies.
I really can't recommend it.  There are better rubber octopus movies out there.  Hell, I'd probably rather watch those CGI ones, which is saying something.
Themes:  People keep pointing guns at each other, and firing them around all willy-nilly during the proceedings.  No one save the Octopus of Crime is any good at their job.
Gun targets:  Darts flew like rain.  If rain flew, anyway.  Only the animals were spared, as it should be.
Batman
Sandy wanted to show the "Hi Diddle Riddle" episode, because it's where a stoned-out Batman does the Batusi.  I hadn't known it was the first episode of the series, so I learned something new.  Sandy was giggling like a schoolgirl all throughout, just waiting for his moment.  Once Batman started swaying to the beat, Sandy sprang to his feet to dance around with him.  Three or four others joined him.  It was one of the most disturbing things I saw that day.  Whether it was because of Sandy's gyrations, or the fact that he had every move down pat, I'm not sure.
The episode had the late Frank Gorshin as the Riddler.  If you hadn't figured that out from the episode title, you need to leave right now.  I love Frank, but you have to admit the Riddler's not exactly the most threatening rogue in Batman's gallery, what with his leaving clues behind all the time.  Jill St. John was also in the episode as the Riddler's moll, and she looked mighty fine.
The Riddler sets Batman up to attack him when he's not actually committed a crime, and then says he'll sue Batman.  This is a surprisingly good plan for the Riddler.  For some reason this'll mean Batman will have to de-mask in court.  Batman tries to get proof of the Riddler's plan, but almost gets the Batmobile stolen while he's dazedly dancing around.  The Riddler and his gang do make off with Robin, though.  Big surprise there.  We end with Robin in a seemingly inescapable death trap.  Again, big surprise there.  Sandy didn't show the second half, so now I'll never know if Batman managed to save Robin at the end there.  Thanks a lot, Sandy.
Themes:  No guns.  The Riddler was actually being more competent than usual, so this ended up going against the second theme, which is not what I would've expected.  Thanks a lot, Riddler.
Gun targets:  I think Batman and Robin took a couple, but Riddler took more.  Not a lot of shooting, not even at the dancers, which is outrageous.
Trivia contest
This year was a killer.  We had to give the last name of the mad scientist/doctor from each movie.  I hadn't seen even half of the movies presented.  It turns out no one really remembers these guys' names, as no one scored more than 6 out of 30.  Sandy berated us soundly for this performance, and would continue to do so throughout the evening.
The only ones most people got were Seth Brundle from the Cronenberg Fly remake, and the last one, which was a Frankenstein movie.  For some reason, quite a few remembered "kindly Dr. Carruthers" from The Devil Bat.  I can't confirm, but I'm guessing a few people remembered Andre Toulon from the Puppet Master movies as well.  Anything else was scattershot.
I have no idea how the hell this happened, but Dr. Freex, Arthur son of Sandy, Ken, Black Chad…none of them won this.
I did.
Ken likes to claim I always win, but other than my first-place draw with him a couple of years ago, I've always come in somewhere between second and fifth.  (I'm not helping myself here, am I?)  I'm really not trying to brag, but I actually beat Dr. Freex, so I think I'm due a little crowing.  Really, though, it was mostly luck; I remembered Dr. Rukh from The Invisible Ray only because I'd noted it in a past write-up, and I had just watched Mad Love and managed to pull out Dr. Gogol out of my brainmeats toward the end.
Black Chad and Rachel came in second with five each.  Rachel deferred to Chad, saying she'd never beat him in a tiebreaker.  The two prizes were posters, one with some wonderful artwork for a new Call of Cthulhu resource book, and the other promoting a movie festival.  I went with the first one, because damn I likes me some Cthulhu-y artwork.
Dinner break
We all headed off to dinner at this time; I rode with Mr. and Mrs. Mary, many thanks to them.  We were off to the Twisted Root Co., who make their own root beer and claim to have the best burgers in Dallas.  I don't know about that, but mine was quite tasty, I must admit.  I got one smothered in green chiles, pepperjack cheese, and avocado, except they forgot that last part.  I didn't notice until about halfway through and just shrugged it off.
I can't believe I'm going to say this, but I think next time I'd get it cooked a little longer.  I went with medium rare as I usually do, and that thing was just dripping juice everywhere.  Not usually a problem, but there was so much juice the bottom half of the bun got a bit soggy, which I'm not terribly fond of.  Halfway through, I decided to try the condiments available, which were chipotle-ancho ketchup, horseradish mustard (think Grey Poupon), and their own BBQ sauce.  I liked the first two just fine, but they didn't really go with the burger.  The BBQ sauce, however, was a winner.
Instead of fries, I went with fried pickles, and that was a good choice because they were delicious.  The ranch-like dipping sauce was a bit salty (especially considering I was dipping pickles in it), but that's what the root beer was for!  They had two types of root beer available, spearmint (!) and regular.  As I wondered about the odd flavor of my root beer, I finally noticed the good-sized note above the spigot saying it was spearmint.  I'm so observant!  It was actually a pretty good complement to the food, but a bit too odd on its own.  I refilled with regular and preferred that.  I wouldn't mind going back and trying one of their more exotic burgers, like antelope or ostrich.  Or maybe that one with the bacon and blue cheese.
The girls were to meet us here and then catch the next movie with us.  However, the dangers of always having me drive caught up to them as they managed to get lost coming home from Ikea and a 25-minute drive turned into a 90-minute odyssey.  By the time they'd have gotten to the restaurant, everyone would've been gone, and the whole thing would've been held up waiting for us like the last time.  They decided to just stay home.  I understood, but was very sad, because the next movie was going to kick a metric fuckton of ass.
Super Inframan!!!!!!
My ninja infiltrators had placed this movie in the post-dinner spot prior to the actual event.  My reaction:  "OH SHIT SUPER INFRAMAN!?!?"
Oh yes, indeed.  I envied those who had no idea just what they were about to experience.  Those who had seen it were, shall we say, very enthusiastic about it.  Dr. Freex was a little nonplussed that we started it up before he got there, but he's probably seen it more than everyone else combined.  I'm pretty sure it's his DVD, too.
I'm not saying much on this one, because if you haven't seen it, you really should.  Further, you should go in with as little idea about what happens as possible.  I try not to pump these movies up sometimes, since I know everyone has different tastes, but in this case I may have to agree with Ken, who dubbed it, "The greatest thing ever," or something like that.  It's up there, I'll give him that.  I really cannot oversell it, because it is GLORIOUS.
In fact, go buy it or Netflix it or whatever and watch it right now.  Then come back.  I'll wait.  I'm so serious.  Don't let your life pass you by without seeing Super Inframan.
If by chance you watch it and don't love it, well…I'm not apologizing for anything, because it is awesome and you are obviously a retarded moron who wouldn't know greatness if it punched you in the head with Thunderball Fists™.
All right.  I'll be brief on the story (to be fair, so is the movie.)  Princess Dragon Mom, her second-in-command She-Demon, and her army of monsters and skeleton warriors arise from Inner-Earth to conquer Mankind from their swanky island base.  The Professor has luckily created plans for a cyborg hero, just in case something like this should happen.  Despite the monsters' efforts, the Professor succeeds, and Inframan is born!  Then Inframan, his buddies from the Science Patrol Headquarters, and the monster army fight for the rest of the movie.  Occasionally a plotline pops up, but never for too long, and then it's back to Inframan battling the forces of evil!
I had not seen this movie in many years.  I had rented it in high school based on the pictures on the back of the cassette box showing people in rubber costumes fighting each other.  I watched it three or four times before returning it, and rented it a few times over the years as well.  I kept trying to get them to sell it to me, since I had to be the only person renting it, but they never would.  Jerks.
This is exactly what you want in a movie:  minimal plot and loads of kung-fu fights featuring people in rubber monster costumes.  If it isn't, you're no friend of mine.  For those of a certain taste, add in special effects that range from crappy to less crappy, bad dubbing, flashbacks to scenes we never ever saw, just-in-time super-weapon development, and did I mention the rubber monster costumes?
Oh, it was as incredible as I remembered.  Why the hell don't I own this movie!?  I need to rectify this and show the girls what they missed.
The monsters…oh, the monsters!  They are the reason everyone loves this movie.  Now, part of it is due to Princess Dragon Mom being pretty hot and running around in a skirt so short that your average vapid starlet would probably tell her to let it out a bit.  Part of it is also due to She-Demon being smoking hot and running around in a metallic vest and bikini with this little stringy hula skirt that doesn't cover a damn thing.  How I'd forgotten her for all these years I couldn't tell you, because DAAAAAAAMN.
There are other factors, like their awesome, mostly explosion-based powers; their monster-fu; and the fact most of them are people in goofy rubber costumes.  Mostly, though, it's their attitude.  They are having the time of their lives trying to conquer and enslave mankind.  The monsters are constantly cheering their victories, posing and laughing at the pitiful humans as they reveal their nefarious plans, and bouncing around psyching themselves up for their next attack.  Hell, some of them even skip about in an obviously joyful fashion during fights.
Now, She-Demon is pretty reserved, limiting herself to some evil laughter, but it actually fits her.  She's a good anchor for the crew.  Princess Dragon Mom, too, is very business-like when she's in her human form, but you can see a twinkle in her eye as she cracks that whip of hers.  When she transforms near the end into a dragon monster, though, she lets herself go.  She happily flaps her arm-wings and flies around laughing as Inframan tries to cut her head off.  Honestly, should we be trying so hard to stop them in their takeover?  Sure, they drop people down trap doors into lava pits, but nobody's perfect!  I for one welcome our new monster overlords!
Especially She-Demon.  Rrrooowrrrr…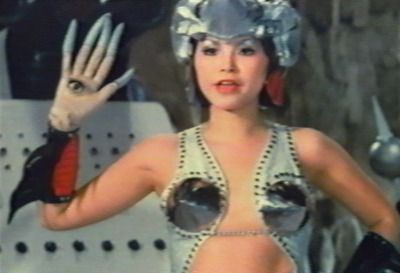 Everyone has a favorite monster.  A popular one is the big bluish mutant whose hands are a drill bit and what appears to be a cross between a steam shovel and a mitten.  He flounces about the most of all the monsters.  He flips a car over at one point, and then minces after the people that were in it, chortling all the while.  He'll jam that drill into some poor fool's gut, then prance on over to his next victim.  He just doesn't even care; he's a big ugly monster with oddly specific hands and HE LOVES IT GODDAMMIT.  You can't help but adore the guy.
I also love the spider monster; it spits web cages and can grow to Godzilla size.  Then there's the Slinky robots, and the fire-breathing dragon-guy, and the plant monster, and the hairy witch thing, and Princess Dragon Mom's monster form, and Princess Dragon mom's human form…and She-Demon…wait, what was I talking about?
You know who my favorite monster is?
All of them.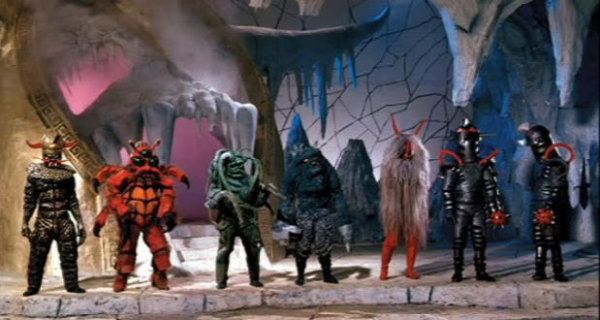 Themes:  Neither were present.  No gun safety issue, because no guns.  Everybody was kung-fu fighting.  Everyone is just fine at their jobs in this movie, too.
Gun targets:  The monsters and skeleton warriors took some hits, but everyone was having too much fun to worry overmuch about targeting them.  Princess Dragon Mom was only shot at in her monster form.  She-Demon was left completely alone.  That annoying little girl got pegged a few times, though.  She was the movie's Kenny, although thankfully she's only in the movie for about three minutes.
Sandy was careful to hide the next movie.  I caught the unmistakable Something Weird intro they put on all their DVDs, though, and immediately feared the worst.  This was it.  This was the year Sandy inflicted The Gore Gore Girls on us.  I wondered if I had time to call my family and tell them I loved them.
 Jimmy, the Boy Wonder
It turned out almost no one recognized this title, so Sandy needn't have worried.  However, it was indeed a H.G. Lewis movie…a kids' movie, no less.  Yes, the guy best known for movies featuring naked women and/or bloody mayhem decided to try his hand at making money with kids' movies at one point.
What gets into some people?
We start with a voiceover introduction about The Great Clock which sits at the End of the World.  Once every thousand years it opens up to let some sunlight in.  During this time, if someone makes a fervent wish for time to stop, it will.  Questions abound:  Who built this thing?  What does it do?  Why does it let in sunlight every thousand years?  Is it solar-powered?  Is no one watching this thing?  Has no one every made a wish for time to stop at this convenient moment before?  If you think we're getting any answers, you've obviously not watched an HGL movie before.  Lucky you.
Our protagonist, Jimmy, is all sad that school is starting, and wouldn't you know it, he wishes time would stop.  It does.  People all over the world in Florida stop moving and pretend they're frozen, with varying degrees of success.  This is all seen by the Astronomer, who decides something must be done, lest the evil Mr. Fig get his wish for time to stop for a thousand years!  OH NOES!!!  He sends his daughter Aurora down to guide Jimmy to the End of the World, where they will replace the Oscar Emmy Golden Globe in the Great Clock and restart time.  More questions abound:  Why can these four still move around?  Why is the Astronomer so determined to screw with Mr. Fig's good times?  Why would Mr. Fig want time to be frozen, anyway?  If you think we're getting any answers…
Anyway, Aurora and Jimmy run around Florida for a while, with various boring "adventures" resulting.  Hijinks refuse to ensue.  Several bad songs are sung by various people that can't sing.  Incidents of dart gun-related violence increase exponentially.  Sandy laughs with glee.  People consider lynching Sandy.
As far as the "adventures" go, well, let's see.  At one point Jimmy and Aurora are tricked into a land that's blue, which for some reason puts them to sleep.  Luckily, someone (the Astronomer, maybe?) turns things red, and they not only wake up but run off as if someone had sped up the footage.  They run into quite possibly the most unconvincing "Indian" tribe in cinematic history and sing a song about beans.  Not a single fart joke, which means HGL didn't know what kids wanted any more than he did anyone else.
Aurora tells Jimmy a story, which gives HGL an excuse to run a foreign cartoon, badly dubbed over by the cast and/or crew (supposedly HGL himself is in there as a talking cat.)  This takes up 10-15 minutes of the running time, and brings things to a screeching halt.  Mr. Fig keeps trying to get Jimmy to abandon his quest, even tempting him with hot dogs and cotton candy on a cookie sheet.  Jimmy is stoic, mostly because Jimmy can't act.  Jimmy and Aurora finally get to the end of the world, which is located in Coral Gardens, fix the clock and time starts up.  Poor Mr. Fig!  Jimmy goes off to school and his teacher is Aurora.  Um, hooray?
Sandy claimed elsewhere on this site that I enjoyed the movie, singing along and laughing at the jokes.  Sandy is a big damn liar.  I only sang along with one song.  Further, no one laughed at the jokes, and I know no one believes him about that.  Anyone who knows HGL knows his sense of humor is funny only to him, and possibly psychopaths.  Chocolate milk, people; need I remind you?
This movie is, surprise surprise, utterly terrible.  No one can remotely act, least of all the kid playing Jimmy.  His cue card reading is blatantly obvious.  He can only portray dull surprise and slight discomfort, and it's hard to tell them apart.  Aurora is chubby but kind of cute; her portayer can't act either, although Jimmy makes her look like Helen Mirren.  The guy playing the Astronomer is to acting as STDs are to romance.
The guy playing Mr. Fig, although no more talented than anyone else, is allowed to go full-on hambone, which means he's the only remotely entertaining part of this mess.  His loud pink pants and black-and-white checked jacket and pompadour and gigantic painted-on eyebrows make him quite a sight.  His tendency to get reeeeeal close to Jimmy is disturbing, admittedly.
Yes, I did sing along a bit with his one song, which was probably called, "Mr. Fig."  Shut up.  Everyone should've sung with him, just to thank him for his attempts to make the movie suck less.  He didn't succeed, but his hammy ass sure did try, bless him.
Don't watch this.  It hurts.  I think it broke Mary, who near the end started laughing hysterically for no reason (it certainly wasn't due to anything on the screen.)
Themes:  No guns, but I refuse to believe Jimmy is any sort of wonder, that Mr. Fig is any sort of threat, that Aurora is any sort of help, or that the Astronomer's portrayer is any sort of actor.
Gun targets:  Every single damn one of them.  Jimmy ate darts throughout.  The "Indians" and the Astronomer took a lot in their brief appearances.  Every time a song started, the singer was pelted with foam justice.  The cartoon characters were not spared, either.
As a change of pace, we then got a line-up of short scenes from various movies.  Most of them were pretty great.  I'll do the best I can on gun targets, but they were otherwise too short for any themes to emerge.
A Chinese Torture Chamber Story
Sandy, wanting to appease those baying for his blood, showed us a scene from this movie.  I have never heard of it.  I think I might need to see it, though.
The scene in question features a man and a woman, getting ready to fight wuxia style.  They're up in the trees, standing on bamboo, flying around, jawing at each other…and then all sense of familiarity goes out the window as they rip their clothes off.  The guy says he couldn't get his penis up to some ridiculous length, like 28 inches.  He only got it up to 26.  The woman berates and mocks him for this.  Talk about your size queens!
At the point where your manhood's like a fleshy baseball bat swinging between your legs, is another two inches really that big a deal?  Anyway, they proceed to have sexual combat.  In other words, they fly around, smash into trees and down into the ground, all while engaging in intercourse.  He apparently does well, as she seems satisfied at the end (although I'd think the splinters she probably has in her backside would not be worth it.)
Oh, those wacky Asian filmmakers!  Is there anything they can't make better?
Gun targets:  I think a couple of people tried to stop the sex-fu.  It didn't work.
Ken and Sandy Want a Painful Death
 At this point in my notes, it simply says, "F*CK."  That's right.  They decided to once more play the "Jilla-Jalla-Jellyfish" sequence from Sting of Death.  Why Sandy joined Ken and Kirk in their campaign of terror, I couldn't tell you.  They tried to hide it as they did with JtBW, but once more that Something Weird opening gave away the game.  This time my gut knew exactly what was going on.  People sang along because they hate me.  I think someone tried to actually dance this thing, which is impossible because you just apparently flop around like a fish being electrocuted.
Several laughed at my pain, I'm sure of it.  I know Sandy was dancing in little circles and giggling, and Ken was bouncing gleefully in his seat, pointing at me and screaming about how I deserved it for the trivia contests.  All I could hear were the sounds of pigs being slaughtered, women and children screaming, men gnashing their teeth and beating their fists against their skulls, and above all a voice like Hell itself telling me to give in and feed on the blood of the unholy.  Luckily for all those assembled I resisted, but at what cost to myself?  Only time can tell…
Gun targets:  My "friends" were too busy singing and dancing and laughing to shoot the bastards on the screen.  I made up for it because I was like a damn hurricane of darts when I wasn't clutching my ears and shrieking.
Korkusuz/Rampage/"Turkish Rambo"
You may recall, in Ken's piece about T(ween)-Fest 2011, that  Ken talked about Kirk becoming offended by a scene from this movie featuring a "rocket launcher."  We got to watch this scene, which must be the climax to the movie.  I watched the trailer once, which revealed to me the amazing "rocket launcher" that makes a distinctive "Foooomp" sound when fired.
Oh, my goodness.  This is something else.  Sadly, I understand the rest of the movie doesn't live up to the promise of this sequence, which is a damn shame.  It turns out "T.R." fires this thing about 15 times during his rampage.  How?  He keeps finding loads for it lying around the enemy camp he was being held in, exactly like finding power-ups in a video game.  Yes, it's just that simple.  He also beats up a couple of guys, but frankly, who'd bother too long with that when you keep finding rockets?
Just…wow.  This filled my heart with gladness, and took away all my silla-salla-sadness.
Gun targets:  At first we were helping "T.R." out, but it quickly became obvious he didn't need our meager help, what with all those rockets conveniently littering the enemy base.
Sextette
Ken tried to crush us with the "Love Will Keep Us Together" sequence, but again we could barely hear anything.  Oh, we could still see it, which was bad, but the sound levels were too terrible to bother with the whole thing.  There was a collective sigh of relief.
I have a feeling Ken took that as encouragement; I fully expect this to be inflicted on us come 2012.
Don't Panic
Sandy described this as a Mexican Evil Dead-type movie.  We watched a scene where a guy in a car manages to get snuck up on by the possessed man and killed, all while he sits in the back seat of his car.  The blond guy who appears to be the hero does some stuff.  Another guy approaches the car, and manages to studiously avoid looking at the back seat of the car, even as he gets in the driver's seat.  Then the dead guy, to our vast shock, sits up.
Why did Sandy show this?  Because of what the dead guy says; or rather, what the subtitles have him saying.
*drumroll*
"Do you believe in Stan?"
There was much speculation about this Stan, why one has to believe in him, what powers he possesses, and so on, as you might imagine.  We never really came to a consensus.  I will say that if he's friends with Baron Samedi, I'll totally believe in him.  I fear that's not the case, however.
(In case you didn't figure it out, it was supposed to say, "Satan," not Stan.)
Gun targets:  The blond guy took a few, as did the idiot that missed the corpse in the back seat.
1,000 Year Cat
This was shown at the first T-Fest ever.  We got to see a scene with a dog and a cat having a running kung-fu battle.  Okay, it may not be technical kung-fu, but it's pretty damn close for creatures without opposable thumbs.  Also some interesting ideas in what they have the critters do.  The cat's evil, of course, although both it and the dog are black.  It was pretty damn amazing, although I wasn't thrilled with some of the things done to the cat.  It seems like a fun movie, at least based on this scene.
Gun targets:  I don't recall too many flying about during this.  I'll assume a few did just because the shooting was nonstop all day.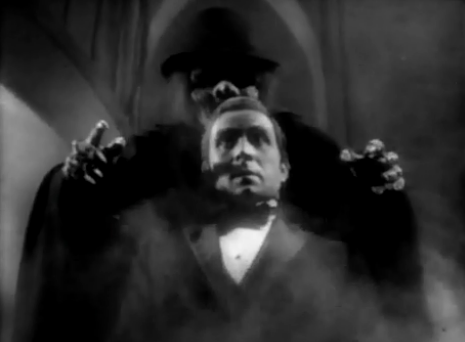 Dark Intruder
Wealthy playboy/detective/occult researcher Brett Kingsford is drawn into a series of murders being done by what appears by a madman, who strangles and claws at his victims.  Around this time, his friend Robert is having blackouts and moments of walking sleep.  Are they connected?  Yes, but probably not the way you suspect…
You've probably read about this over at Dr. Freex's site.  It was a failed TV pilot released as a movie.  This is why there's a lack of explanation for things, like why Brett does what he does, how he known what he knows, etc.  Still, this is a pretty fun time.  A frighteningly young Leslie Nielsen is Brett, and I rather liked his smarmy but effective character.  It plays nicely against his more familiar roles, especially from his later years.
Robert's played by Peter Mark Richman; he's been in a LOT of television over the years.  Fans of Jabootu probably know him best as Adam Chance in Agent for H.A.R.M., an MST3K subject.  I like him, even though I've only seen him in three or four things (and heard his voice in a couple of others.)  I am very glad these are the two main characters, because Judi Meredith plays Evelyn, Robert's fiancée, and either she was a bad actress, or she was a really good one and played the character to be exactly as annoying as the director wanted.  She's onscreen for maybe two minutes, but it felt like half an eternity.  The monster's played by Werner Klemperer, and if you know this going in you can tell it's his face behind the make-up, which is simple but effective.
I liked the plotline, featuring some sort of Sumerian demon trying to be reborn on Earth again.  The little statuettes the killer leaves at the scenes of the murders are suitably creepy.  The mention of Lovecraftian gods made me happy.
If you get the chance, give this a look.  It's only about an hour long, and it is pretty fun.  It's not perfect, but I think this might have made for an interesting series.
Themes:  Once again, neither apply.  Maybe I was wrong about these.  I should've let Mary choose them; she's quite good at that sort of thing.
Gun targets:  I think the monster took some towards the end, but mostly the shots were aimed at Evelyn, who was quite irritating and would not shut up.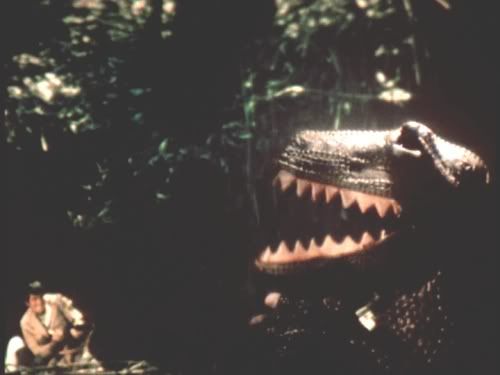 The Mighty Gorga
Hoooo, boy.  This was the choice for the T-rex movie?  Really?  You could've delighted the crowd with the nonstop insanity and hilarity of Attack of the Supermonsters, at long last, but instead you serve us this crapburger?  Shub-Niggurath preserve us.
If you've seen the first half of King Kong, you already know the plot, more or less.  A circus owner needs money to save his circus from that one greedy corporate circus that buys up other circuses and closes them down.  I'm sure we're all familiar with this well-trod trope.  The owner up and goes to "Africa" to find the legendary giant ape known as Gorga.  Then, somehow, they can bring him back and make tons of money off the viewing public.
Once in "Africa," he meets a lady who's going to lose her ranch to an Australian stereotype unless she comes up with some money.  The already-broke circus owner gives her the money needed to save the farm, and in return she comes along to help the expedition.  Her dad went out into the jungle a while back trying to find a big secret "treasure" supposedly left by King Solomon, and never came back.
The two run into a "dinosaur" and its "eggs," and later Gorga himself; meet some nasty "natives" who like to sacrifice virgins to Gorga; meet the aforementioned missing father at the village; escape the natives and find that "treasure" mentioned earlier, which is protected by a neat stop-motion beastie from another movie; nearly have the "treasure" stolen by that Aussie guy before Gorga kills him; and then the movie just kind of ends with them about to head back to civilization sans giant ape, but with the "treasure" and their newfound love to compensate them.  Considering how well the whole "bring giant ape to civilization" thing usually turns out, it's probably for the best.
This was reviewed by Ken himself years ago.  It was the big culmination of his "Mammoth Monkey Mondays."  It's a Jabootu movie through and through, and HOLY MOTHER OF PEARL is it dull!  Talk is cheap, but it's also boring if you're not careful.  The makers of this film were not careful at all.  Worse, no one can act very well (or maybe just didn't want to bother with this dreadful little fart of a movie) and I swear they were all as bored as we were.  Except for the female lead, who just could not act.  She very visibly read her cue cards and had fewer expressions than the ape suit.  The film looks pretty bad, the sound isn't good…really, you name a problem, this movie likely had it.
You may have noticed that I put certain words in quotes up there.  There are very good reasons for that…here they are.
"Africa":  They try to fool us with lots of stock footage, and putting some palm trees outside an airport terminal and playing some tribal drums in the background.  It did not work.  I did, however, learn many interesting things about Africa.  For example, did you know they have uakaris and gibbons in Africa, along with their giraffes and rhinos and what-not?  I'd thought those only lived in South America and Asia, respectively.
They also have Indian elephants in Africa, not in India as you'd suspect.  Maybe they keep the African elephants in India?  Perhaps it was some kind of pachyderm student exchange program.  Also, did you know that maps in Africa are made out of brown paper grocery bags, and that they have tribes of white people wearing brown make-up?  Well, to be fair, I may have known that last one.  Speaking of which…
"Natives":  I've seen some bad attempts to pass off white people as African natives, but yeesh.  Everyone's shade of brown makes them look more American Indian or Mexican than black.  At least they don't talk much, because I have a feeling there would've been a lot of "ooga-booga unga-bunga" talk if they had.  No one needs that.
"Treasure":  It's a bunch of Mardi Gras beads.  They didn't even paint them up like gold or something.  Wow.
"Dinosaur":  Well, we'll get to that.  Its "eggs," too.
Very little enjoyment is to be had throughout its five-hour running time.  (I think that's right.)  Once in a while we see Gorga, who is portrayed by a man in a ratty ape suit with unblinking googly eyes.  An interesting choice for portraying a giant ape, I'm sure you'll agree.  Despite its lack of quality, more ape couldn't have hurt things, considering how awful what we got is.  The chieftain of the "natives" is pretty hammy, but sadly he wears out his welcome because he's not hammy in a fun or interesting way.
The one saving grace of this picture, the only reason to see it, is for the minute involving the "T-rex."  It is SPECTACULAR.  It's a dolled-up plastic puppet, combined with horrible rear projection to produce possibly the worst special effects scene of all time.  (More like "special" effects, right?)  Even if you've seen images (and if you read Ken's review, you have) it's nothing compared to seeing it in motion, with them shaking the puppet so its jaws flap around like it's trying to roar or bite something.
After such a long slog, you will be instantly taken to bad movie nirvana by the horribly matted-in hero shooting towards the flapping puppet.  As if this wasn't enough, he then picks up what is supposed to be an egg (having found a nest of them prior to the parent showing up.)  I say "supposed to be an egg" because I refuse to believe dinosaur eggs looked like big pink marshmallows, or were made of what appears to be Styrofoam™.  So, he scoops up this "egg" and throws it at the attacking T-rex.  Yeah, that'll calm it down.  Then Gorga shows up, and fights the puppet for a bit.  During this *cough* life-or-death struggle, we learn that T-rexes have large, well-developed arms with four claws.  A new fact for the files!
It was probably best they saved this bit for near the end, because it shakes you out of your stupor quite nicely, and you can kind of just cruise to the end.  You get a little horrible rear projection with Gorga; the worst anesthetic bullet ever; footage from earlier in the movie reused; and just about everyone dies before the end, so that's nice.  Sadly, not everyone dies, so there's still disappointment even when it ends.  All in all, though, you should think long and hard about whether you think this one minute is worth the rest of the movie.  I'm not sure it was, frankly, as amazing as it is.
I had thought about including the stop-motion critter as a positive, but since it's obviously someone else's hard work I'm not inclined to.  Plus, it's the same three seconds of footage, which at one point they repeatedly play back and forth.  It fools absolutely no one.  Someone thought it was from a Hercules movie; I didn't recognize it, so I can go with that unless someone says otherwise.
This movie created chaos among the group.  There'd been very little gunplay involving participants, with the shots going at the screen where they belong.  This movie ended that fragile peace, and soon darts were flying between the fest-goers.  This went on for some time, long enough that I was surprised no one got hurt.  Well, that ended when poor Mary took one right in the eye.  She was not very happy about it, as you might imagine.  She's all right, which is a relief.  This immediately brought the in-house firefight to an end, and the shooting at the movie resumed, as it should be.
That's how boring and bad this movie is:  It turned us upon ourselves.  Be warned.
Themes:  Finally!  A few people handled their guns poorly.  It was hard to believe anyone was as billed because they were terrible actors.  No one bough the gorilla or dinosaur, either.
Gun targets:  Again, no one was spared, except when we turned on ourselves.  Actually, the "T-rex" may have gone untouched, but only because we were laughing so hard during its too-brief appearance we couldn't bring the guns to bear properly.  I'm not sure who took the most shots; I'm guessing either Gorga or the circus owner.
Aftermath
Sadly, our fun had to end.  Everyone made their goodbyes and promises to see each other next year, and into the night we went.  I always feel a little melancholy when it ends, because it's just such a good time.  Of course, if it didn't end I wouldn't have the appreciation for it that I do.  Plus, I couldn't hog Ken's bandwidth to ramble on about it.
As you may have guessed, we've got three strong contenders for Worst of the Fest.  There's a bad comedy, a bad kids' movie, and a bad adventure movie.
Normally, I'd go with the bad comedy.  In this case, though, it could be argued that humor of the particular time it was made just doesn't resonate with someone of my generation.  I would argue against it, but there's at least a possibility.  It was also much shorter than the other two, which helps mitigate things.  Sh! The Octopus is not good, but it manages to be the least painful of the three, mostly due to brevity and for being the most professional-looking of the three.
Honestly, I had thought Jimmy the Boy Wonder wouldn't be topped:  Terrible in all respects, with little good to counterbalance.  It turns out, though, that despite being awful, it was odd enough to kind of keep you watching, just to see what insanity would happen next.
This really came to light during The Mighty Gorga, which was possibly the dullest giant monster movie I've ever seen.  Movies are supposed to be entertainment.  A boring movie commits, in my eyes, the ultimate sin.  I found myself more interested in staring into space than watching this movie for the most part.  I honestly had to refresh my memory of the first half of the movie with Ken's review; it was that hard to pay attention to.  At least Jimmy had the guy playing Mr. Fig, who was at least trying to entertain the viewer.  That's two more than this movie had (I'm counting an additional penalty against the movie for the female lead, who appeared to be engaged in anti-acting.)
I was tempted to call it a wash between the three; later, I was certain it was going to be a tie between Jimmy and Gorga.  It was only while writing this, and realizing how little I'd paid attention to it, that I made my choice.  While a case could still be made for Jimmy, I have to give the award to The Mighty Gorga.  I mean, this is a giant monster movie that manages the epic task of being arguably worse than Zarkorr the Invader!  Considering how long I've considered ZtI! to be the worst giant monster movie out there, this is saying a whole hell of a lot.
Well, that about does it for me.  I hope, as always, that you enjoyed your slog through my write-up.  Feel free to leave comments below; I always like to hear from the readers.  And if you get a chance, come on down for one of these.  It's a blast, believe me.
This is the Rev., signing off.