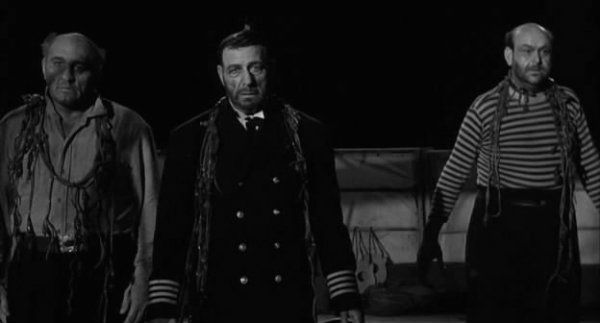 The crew wasn't enjoying the owner's 'healthy' new kelp diet much.
Sam Katzman produced in some fashion nearly 250 (!) movies in his career, starting in the '30s. By the '40s he started moving occasionally into a 'spook' direction with flicks like Invisible Ghost, Spooks Run Wild and the Vanishing Corpse. These and several other skipd row productions kept Bela Lugosi busy, i i if not exactly rolling in the dough. (Hmm, not sure my Invisible Ghost review migrated from the old site. I'll have to attend to that.)
Katzman made a natural transition to B-movie sci-fi flicks in the '50s. He worked as executive producer for Harryhausen's stuff that decade, and also oversaw films ranging from Creature with the Atom Brain, The Werewolf, and The Giant Claw. Atom Brain and our current subject all featured  zombies, presumably because it was pretty cheap to put pancake make-up on actors. Still, the marked variety of the two approaches toward the zombies is kind of interesting. This film, unlike Atom Brain, is rather more traditionally supernatural.