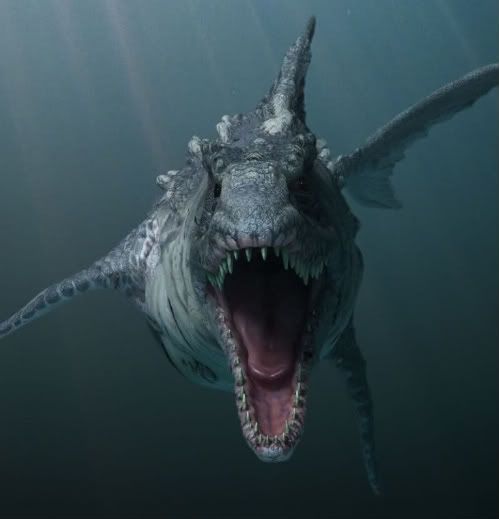 I was probably pushing my luck, watching this so soon after Octoshark Sharktopus. Still, they both had just come out, and were made by Roger Corman, and I hadn't watched a lot of these SyFy deals lately and gotten burned out on them again. So I rolled the dice.
For probably those reasons, I actually liked this one pretty well. I mean, it's not great, and again, there's no reason a modestly successful monster flick like this shouldn't be the baseline for these SyFy movies instead of being one of the much better ones. In any case, it fell pretty easily into the "decent rental" category.
We open on an ice shelf disintegrating. As we know from seemingly scores of these films, such as MegaShark vs. Giant Octopus, this is always bad news, since it means prehistoric monsters will soon be freed. And indeed, we see several specimens go swimming away here, setting up a sequel before the film proper even starts. Still, at least they don't bother to beat us over the head with some perfunctory message about global warming or whatever. Perhaps they just assumed it was implied and moved along. Which is fine, really, and if nothing else means we won't have to worry about Dinoshark being the result of an eeeevil military experiment. (No, that was Sharktopus.*)
[*Odd note: I guess there are so many variations to be done in these things, but I couldn't help noticing that Sharktopus was basically a revamp of Italy's Devil Fish, aka Monster Shark, while Dinoshark is more or less a revamp of the moribund Jaws knock-off Up From the Depths.]
Things start off well with the opening credits, as the score *gasp* does not at all reference the Jaws theme. (That doesn't happen until the first attack scene; still, the film is but a minor perpetrator in that regard.) We don't have to wait long for that attack either. As Corman notes on the commentary, on SyFy they want the monsters to pop up at regular intervals, to discourage channel switching.
As with Sharktopus, this is filmed on the scenic beaches of Mexico, no doubt back to back (or at the same time) to stretch that production peso. And, of course, to provide Corman and his co-producer wife Julie a nice paid vacation. Nothing wrong with that, of course, or even with Corman's taking an additional paycheck by playing a supporting role here as a scientist. That's part of Corman's charm, in fact. Which is good, because as an actor, Corman is a great skinflint.
Also, of course, it allows for gorgeous vistas, lots of pre-existing resort and beach facilities and activities to shoot, and, oh, yeah, lots of lovely young ladies in skimpy bikinis. Indeed, the film has barely started before we get some surfing stock footage, although the bit turns out to be a lot better than I thought it would be.
One difference between this and Corman's original Piranha (not the TV remake, or the recent theatrical remake) is that, surprise, the leads are younger. Bradford Dillman was nearing 50 when he starred in that, while his counterpart here, actor Eric Boulfer, was 33 when this was made. To be fair, though, both films' female leads were just over 30. Of course, women tend to be cast younger anyway.
I should note that despite playing two complete clichés, the revenge-minded boat captain and the hot female scientist (specializing in "environmental sciences with a focus on aquatic ecosystems"), the two lead actors are pretty decent, particularly Balfour. They are certainly better than the two hunks o' wood that starred in Sharktopus. Balfour nicely underplays his part without suggesting that he's just phoning it in.
Of course, they are given a little more to work with, and the script here is (to the extent possible) less campy than that of Sharktopus. The two leads are driven by revenge after a friend of theirs is killed, and *gasp* they actually don't skirt over this event. A quiet scene where the two, essentially strangers, relate for the other stories about their mutual friend is actually kind of touching, and lends weight to her demise in a fashion not exactly typical of these sorts of movies.
Of course, we're not exactly talking Emmy-level stuff here. I especially laughed at the way the Obligatory Seaside Resort Owner (who they don't even bother to make especially villainous; I couldn't tell, though, if they were trying to lay off that woeful cliché or if instead just assumed we would view him as such out of pure tradition) pressured the heroine to have the water polo team (!) she coaches play at the Inevitable Regatta (see also The Last Shark, Tentacles, Jaws 2, etc.). By the way, nothing is more boring, as it turns out, than water polo, but it does allow for a rather Piranha-esque carnage scene when Dinoshark shows up.
Oh…Spoiler Alert. Sorry.
Other moments of amusement were provided by one character being able to get a bunch of explosives and some RPGs (!!!) from a "friend on the army base," the ominous location Los Muertos Reef, the fact that the heroes can't head off the attack on the regatta because none of the three have their (previously established) cell phones on them, the just horrible acting from the water polo players (probably because it was easier to get water polo players who would 'act' than training actors to play water polo, although bobbing in water and flailing at a ball isn't exactly an amazing skill), or when the Lady Scientist finds monster goop on something and blandly asserts they can just "sequence the DNA." Yes, of something that's been extinct for hundreds of millions of year.
On the F/X side, the CGI is pretty good (all things considered), especially the underwater stuff. As usual, it's not quite as good when the monster appears above the water line, or when it interacts with live elements. That problem is aided, however, by a briefly-glimpsed (yay!) practical prop head used for the attack scenes, one clearly designed to shoot fake blood all over the place. It should be noted that the film is either comparatively gory for a SyFy flick, or had a little bit of grue added for the DVD release. I kind of laughed when Corman in the commentary sniffed about using a lot of gore as unseemly. His movies in the '80s could be quite gory indeed.
Sadly, the film's worst moment occurred right at the climax, when the heroine, instead of showing realistic fear and whatnot, pauses dramatically (not to mention retardedly) right before kacking the monster so she can deliver one of those unbearably stupid "cool" lines that no one ever thinks is cool. I was kind of hoping Dinoshark would use this ten or fifteen second pause to jump up and eat her, but sadly not. Still, for a film that at least tried to play things (comparatively) realistically throughout, this moment really irked me.
That said, kudos to Corman for turning out two of the better SyFy original movies, although that's not setting the bar especially high. That said, both this and Sharktopus were pretty fun, and smartly given slightly different tones to boot. Good work.