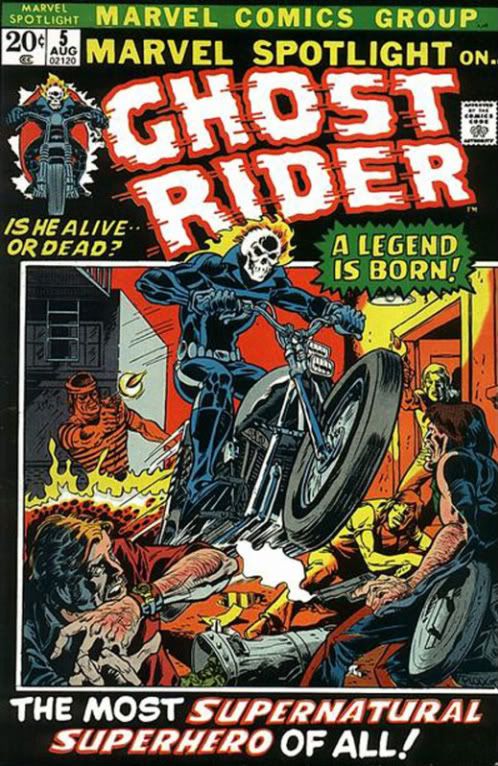 By the 1970s, like the Hays Office before it, the industry's voluntary Comics Code was losing steam.  One of the strictures eased was the restrictions on portraying supernatural events: "Scenes dealing with, or instruments associated with walking dead, torture, vampires and vampirism, ghouls, cannibalism, and werewolfism are prohibited."
Marvel took full advantage of this situation, and soon the place was crawling with monsters ranging from the traditional (Dracula, the Frankenstein Monster, Werewolf by Night–whose name, I kid you not, was Jack Russell) to the more forthrightly demonic, like the mysterious Scarecrow and the Son of Satan.
These characters often sat awkwardly on the line between the supernatural the Marvel Universe's more typical superhero antics.  The most successful crossover was the Ghost Rider, who first appeared via artist Mike Ploog's pen in Marvel Spotlight #5, seen above.  It was quite a while, though, before he really became a superhero, and that was really a shortlived period, ending with the dissolution of The Champions.  Unsurprisingly, it (much later) turned out that Blaze had been the first to leave.  His teammates had never really ever come to trust him, presumably sensing his half-demonic nature.
Unsurprisingly, I always loved Ghost Rider.  Johnny Blaze actually got a very rare comic book perfect ending when his series ended after 81 issues.  Blaze shed the demon Zarathos, and was finally reunited with his one true love, Roxanne Simpson.  We caught up with him later in an issue of The Defenders, where he visited ex-Champions teammates Iceman and the Angel, and it was nice to see him happy for a change.  He'd earned it.
Sadly, nothing remains static in comics, and when the markedly inferior (if ludicrously popular) Danny Ketch revamp of Ghost Rider surfaced in the '90s, Blaze was inevitably brought back in.  I think he eventually became Ghost Rider again, although not in my mind.  Blaze's curse ended with his series in 1983.
Being a second string character, Blaze's adventures were often drawn by, well, hacks, like Don Perlin.  However, that made it all the more exciting when he was occasionally drawn by a better artist, like a young John Bryne (in The Champions and a crossover with Daredevil, where he fought one of my all-time favorite villains, Deathstalker–I'll always remember the miscreant grabbing GR in his til then unfailing, literal death grip, only to have Our Hero sneer "I am no mere mortal to wither at your touch"), or a really awesome issue written and drawn by Jim Starlin, where motorcycle champ Blaze literally raced Death.
GR eventually became a pretty powerful character.  He punked Thor in an issue of The Avengers, defeated Doctor Doom after the latter had finally, and incontrovertibly, taken over the world, and in a Fantastic Four cartoon even brought down Galactus (!).  Although that was more the Danny Ketch version, I guess.
Anyway, here's to you, Johnny Blaze.  Say hi to Roxanne for me when you get home tonight.