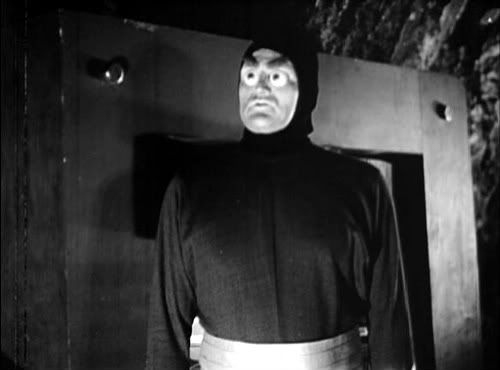 Per request.
Because nothing says 'scary alien' like mittens and a ping pong ball cut in half. (Much like Larry Buchanan proved that nothing says 'dinosaur' like a wet suit with rubber scales glued on and…a ping pong ball cut in half.)
In a way, Killers from Space is the tale of two (at least at this point in time) unsuccessful brothers.  One of these was star Peter Graves, who starred in sci-fi crap like this while his brother, James Arness, appeared in movies like The Thing from Another World and Them!
Not only that, but in 1953, Graves had had a very showy supporting role in Stalag 17, one of the decade's biggest hits.  (That's the film that was spoofed by Hogan's Heroes.)  So the fact that the very next year he was still starring in crap like this–a film that made his other giant bug movie, Bert I. Gordon's Beginning of the End, look like Citizen Kane–couldn't have worn well.  Luckily, Graves (again like his brother) really found his niche on TV, and because one of Hollywood' s most familiar actors.
That didn't prove the case for the film's helmer, W. Lee Wilder, who was the massively less successful brother of one of the town's greatest writer- directors, Billy Wilder, who won two Oscars and was nominated for 13 of them.  Apparently the brothers were estranged, and Billy once called Lee "a dull son of a bitch."  Certainly the evidence presented here supports the dull part.
Lee Wilder basically never broke out of Hollywood's sub-basement, with zero-budget dreck like this, Phantom from Space,  The Snowbeast and Man Without a Body.  Killers did get the big b-movie accolade, however, when it was featured on MST3K. (My bad!) The Film Crew (ex-MST3Kers) zinged the film; their full-lenth bashing of it can be found on YouTube.