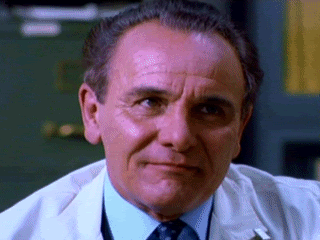 Jabootu correspondent Eric Balzer alerted me to the fact that Michael Pataki, one of the most familiar character actors of the 1970s, has passed on.   Pataki, with his rough visage and gravely voice, was a natural heavy and made a good living playing (mostly) bad guy roles–or, conversely, cops– in a myriad of films and, especially, episodic TV appearances.
In terms of this site, Mr. Pataki appeared in a minor role as Dolph Lundgren's Russian handler in Rocky IV, and as the hero Frank Draka (nee Dracula) in Dracula's Dog.  He also appeared as a cop in the MST3K subject The Bat People.  Other notable films he appeared in included playing a really nasty nosferatu in Grave of the Vampire (with William "Big Bill" Smith playing his son!), and stuff like Airport 1977, Love at First Bite, Dead & Buried, Remo Williams: The Adventure Begins and the slasher flick Graduation Day.
Mr. Pataki was also, as noted, a regular presence on TV screens.  Most notably he played the villainous Klingon Korax in the classic Star Trek episode "The Trouble with Tribbles."  He also appeared on The Twilight Zone, My Favorite Martian, Voyage to the Bottom of the Sea, Batman, Mission: Impossible, The Sixth Sense, Columbo, Get Christie Love, Baretta, Happy Days (he was Count Mallachi of the dreaded 'Mallachi crunch'), Beyond Westworld, Airwolf and really, a zillion others.  Total listed IMDB credits:  157.
Mr. Pataki was 72.